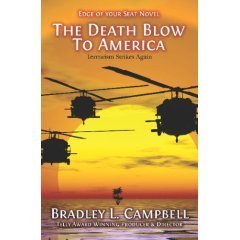 The Death Blow To America
Bonita Springs, FL (PRWEB) May 30, 2008

Bonita Springs, FL (PRWEB) June 2, 2008 -- In Bradley L. Campbell's "The Death Blow to America," there is one question that runs razor-sharp through the novel: When the next terrorist attack reaches our shores, who will save our country?
Captain Jack has turned his marketing company over to his children and is ready to live the long-dreamed life of retirement. A great wife, loving family, good friends, and a new career as a charter boat operator running tours for dolphin watchers--what could go wrong? The answer is everything. A young friend dies under mysterious circumstances, accusations are made about smuggling from Cuba, and our once-complacent Jack finds himself tangled in chaos: murder, terrorism, threats to body and country. When his life is commandeered by Homeland Security, all bets are off for his safety and survival.
Traveling from Ft. Myers Beach to Cuba, to Brazil, from Jamaica to the Florida Everglades, always in a race against time and terrorists, Jack rediscovers his inner strength and, while unwittingly answering the call of his country, soon understands that its very existence rests on his shoulders.
A story of bravery and patriotism, The Death Blow to America is a chilling reminder that America is the prime target for terrorists both domestic and foreign.
The book is now available on Amazon.com for $14.99. To order go to http://www.amazon.com/Death-Blow-America-Bradley-Campbell/dp/1419693689/ref=sr_1_1?ie=UTF8&s=books&qid=1211645405&sr=1-1 then click on book link and enter the title The Death Blow To America. The books ISBN Number: 1-4196-9368-9
The book's author Bradley L. Campbell is an award-winning producer and director, and a former marketing executive. He makes his home with his wife in southwest Florida. Campbell is the father of five and has three grandchildren. The Death Blow To America is his first novel.
For additional information on "The Death Blow To America" or Bradley L. Campbell visit http://www.BradleyLCampbell.com
Contact:
Jack Campbell
Cam-Bel Media, Inc.
239-707-4022
###