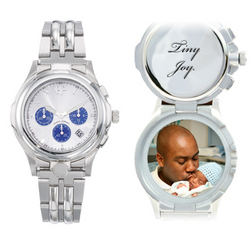 We are very honored to partner with the March of Dimes--we share the same goals
Cleveland, OH (PRWEB) May 30, 2008
HourPower Watches® LLC is pleased to announce a corporate partnership with The March of Dimes.
HourPower manufactures patented timepieces that open to reveal a secret chamber for special words and a treasured picture. These high quality, solid stainless steel timepieces for men and women provide a unique way for parents to celebrate their babies and contribute to a very worthy cause.
Twenty percent of the price of each watch sold will be donated to the March of Dimes to champion the health of America's greatest asset-our children. The collaborative effort between the two organizations can be viewed online at http://www.hourpowerwatches.com/marchofdimes/.
The March of Dimes fostered this partnership because numerous parents had reported that these watches gave them a meaningful and personal way to tell time. Michelle M. says, "Every time I look at my watch, I am reminded that I am watching my miracle grow up". They can also be a lot of fun -- the hidden picture frame allows interchangeable photos to be placed in seconds. The company offers choices for permanent photo discs and engraving on the lift tab as part of the ordering package.
Psychological studies support that people who view positive pictures and words throughout the day, experience newfound energy for what is important to them. "I don't know why it is, but having my daughter's photo right with me gives me a certain strength. I can flip the watch up and see her smiling face. I kind of feel like a superhero with my secret power," says Todd from Atlanta
Men report that the HourPower Watch appeals to them because of the unique construction of the mechanism and the element of surprise on their wrist. They enjoy showing off their families with this novel timepiece; making them a special choice for Father's Day -- worn, enjoyed, and treasured for a long time, in addition to providing a 20% donation to the March of Dimes. The collection has more than 25 styles to choose from ranging in price from $80-$260.
"We are very honored to partner with the March of Dimes--we share the same goals," says Brenda Ellner, PH.D, president. Their mission is our passion. We both want to empower parents with the inspiration of their children, to offer hope and healing, and to motivate each of us to use 'our power' in service of our children and families and the greater good.
About HourPower Watches
HourPower Watches is a five-year-old company that manufactures patented timepieces that open to reveal a hidden chamber. Their first generation watches provide a uniquely portable repository for pictures, messages or discrete medical information. Corporations, and other affiliate groups enjoy the impact that they can carry. For additional information, visit http://www.hourpowerwatches.com
About the March of Dimes
The March of Dimes is the leading nonprofit organization for pregnancy and baby health. With chapters nationwide and its premier event, March for Babies, the March of Dimes works to improve the health of all infants. For the latest resources and information, visit http://www.marchofdimes.com, or http://www.nacersano.org
# # #