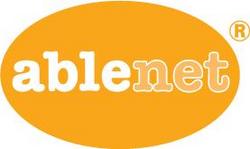 We are honored to have Texas Instruments Education Technology Group as our partner in the development of the first-ever math program for students with moderate to severe disabilities in grades K through 12
St. Paul, MN (PRWEB) May 30, 2008
Minnesota-based AbleNet Inc., a leader in content and curriculum development paired with assistive technologies that support differentiated learning for students with disabilities, today announced the development of a K12 math program in cooperation with Dallas-based Texas Instruments.
Designed for use in special education classrooms, these groundbreaking curricula are the first and only math programs to address the unique learning requirements of students with moderate to severe disabilities in grades K through 12. Additionally, each program in the AbleNet K12 math series will incorporate use of Texas Instruments calculators, a skill that promotes independent living as students prepare for life after graduation.
Under the recently signed agreement, AbleNet has been granted permission to modify content and activities found in the EXPLORATIONS™ Series books and Getting Started Series booklets, both developed by Texas Instruments Education Technology Group, for the purpose of creating uniquely-adapted editions for students with disabilities.
AbleNet is a leader in developing educational content and assistive technologies designed to help students with disabilities. We see working with AbleNet as an exciting opportunity to extend the reach of our math programs and products for use in special education classrooms," said Lisa Brady-Gill, Director of Market Development for the Education Technology business of Texas Instruments.
AbleNet is by no means new to the business of curricula development for students with disabilities. In fact, the company's research-based special education curricular programs have already been implemented by some of the nation's largest school districts, including Los Angeles, New York City, Miami and Philadelphia.
The key to AbleNet's success in the area of curricula development lies in both its ability to adapt general education content for use in special education classrooms and to link assistive technology tools that support differentiated learning. Providing modified general education content linked with assistive technology tools makes it easy for administrators to implement district-wide solutions that align with state and federal mandates for teaching students with disabilities.
"We are honored to have Texas Instruments Education Technology Group as our partner in the development of the first-ever math program for students with moderate to severe disabilities in grades K through 12," said AbleNet CEO Jen Thalhuber. "Texas Instrument's expertise, experience, highly effective math programs and outstanding technologies have provided a solid foundation on which to build what we believe will become a staple in special education classrooms across the country," added Thalhuber.
About AbleNet:
AbleNet offers a complete line of assistive technology products, including communication aids for non-verbal students; access aids, such as switches and wheelchair mounting devices for students who require physical supports. The company is also recognized for developing research-based special education curricula that meet state and federal mandates. Located in Roseville, Minnesota, AbleNet is an ESOP company that sells its products through a network of distributors in more than 70 countries. AbleNet's products and programs have been used in tens of thousands of classrooms nationally for more than 20 years. For more information, visit http://www.ablenetinc.com.
About Texas Instruments:
Education Technology, a business of Texas Instruments, provides a wide range of advanced tools connecting the classroom experience with real-world applications and enabling students and teachers to explore math and science interactively. Designed with leading educators and researchers, Texas Instruments educational technology and services are tested against recognized third-party research on effective instruction and improved student learning. Such research shows that use of graphing calculators and wireless classroom networks in the classroom helps teachers implement instructional strategies that lead to student collaboration, higher student interest, engagement and achievement in math. For more than 15 years, TI has worked closely with educators and administrators to develop student-focused curricular and supplemental classroom materials, and it supports the world's largest professional development organization for the appropriate use of educational technology. More information is available at education.ti.com
Texas Instruments (NYSE: TXN) helps customers solve problems and develop new electronics that make the world smarter, healthier, safer, greener and more fun. A global semiconductor company, TI innovates through manufacturing, design and sales operations in more than 25 countries. For more information, go to http://www.ti.com.
Texas Instruments is traded on the New York Stock Exchange under the symbol TXN. More information is located on the World Wide Web at http://www.ti.com.
# # #