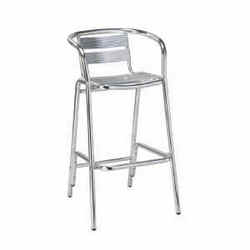 San Diego, CA (PRWEB) May 30, 2008
Premiere Barstools is thrilled to offer a new and chic aluminum outdoor bar stool for the savvy entertainers out there. This sleek outdoor bar stool is an eye-catching and creative response to the increasing demand for more outdoor and patio seating for the summer season.
This modern style outdoor bar stool is made entirely of U.S. aluminum, making it durable and resistant to wind, sun and rain damage. This Premiere Barstools metal stool has also been properly finished to help resist against chipping, cracking and to ensure its ability to easily withstand the elements. This outdoor metal bar stool features a comfortable scooped seat, arm rests and footrest. With a seat height of 30 inches, this outdoor barstool is the standard height for counter stools, so it can be used with existing outdoor furniture or can stand alone beautifully.
This is one example of the sturdy and stylish bar stools available on the Premiere Barstools website: premierebarstools.com. Premiere Barstools is proud to offer this sleek and durable conversation piece of bar stool furniture from their wide collection of bar stools and tables. As the demand for creative solutions for outdoor entertaining increases with the summer season approaching, Premiere Barstools supports the idea that bar stool specialists should meet it with stylish and durable seating options.
About Premiere Barstools:
Premiere Barstools is the leading online source and retail site for bar stools, with dedication and a passion for finding and offering the best counter stools, kitchen bar stools, extra tall stools, outdoor stools, tables, and bars on the market today. With bar stools available in metal, wood, upholstered, backless, and contemporary designs in all colors and sizes, we are confident that our customers can find bar stools, bars and tables that will be chic and beautiful additions to their homes or businesses. At Premiere Barstools, we only sell top of the line products, and we want our customers to be 100% satisfied with their new bar stools and tables. In order to make sure our customers are happy, we offer an unbeatable 30-day "no questions asked" return policy if they should be dissatisfied for any reason.
# # #