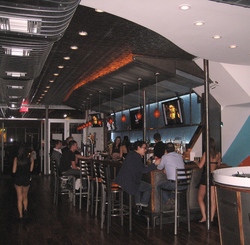 123 Burger Shot Beer gives way to the new breed collegiate while paying homage to those who pine for the days of cheap beer and great burgers
New York City, NY (PRWEB) May 31, 2008
On Thursday, June 12, 2008 from 7 p.m. until 10 p.m., the public is invited to join in the grand opening party of 123 BURGER SHOT BEER at 738 10th Avenue. Come help us celebrate the opening of a bar like none other in the Big Apple featuring $1 burgers, $2 shots and $3 beers.
The beer connoisseur can enjoy favorites like Grolsch, Brooklyn Summer Ale and Goose Island IPA served up by scantily clad barmaids as they slide an order in for some tasty burgers while watching their favorite sports on any of the bar's eight high definition flat screen televisions. If the scantily clad barmaids don't catch your eye, then the sexy pop art by celebrated New York artist Olan, http://www.lipstickchic.com, will make your temperature rise. Art such as a piece involving a New York taxi driver, a mini skirt and some white panties -- you get the drift, or draft in this case.
123 Burger Shot Beer bar is another wonderful presentation by Executive Chef and owner John P. Greco III to please the exotic taste buds and desires of New York nightlife like his other fine dining and drinking establishments Bamboo 52, 344 West 52nd St., in Hell's Kitchen and Philip Marie Restaurant, 569 Hudson St., in the West Village.
The bar creates an ambiance of exotic and sexy as opposed to the old dartboard and pool table of sports bars. "123 Burger Shot Beer gives way to the new breed collegiate while paying homage to those who pine for the days of cheap beer and great burgers," states owner John Greco III.
An elegant setting perfect for a night out to meet and greet welcoming to all who enter with floor to ceiling glass windows and doors the bar sports solid teak wood floors, an authentic pewtered tin ceiling and a 45 ft stainless steel bar with a baby Chicago rail. There is plenty of seating including faux leather covered banquets in colors of aqua and tan complete with a sleek, steal covered DJ booth and outside patio seating area in the back.
Menu eats include $1 Black Angus burgers on a potato bun complete with caramelized onions, secret seasoning and delicious dills on the side. One can order waffle, sweet potato, regular or even spicy wedge fries served up in Chinese food cartons to complement your burger also for an extra three dollars. The menu also includes fried ravioli (ricotta cheese) and chicken wings in flavors like honey barbecue, hot and spicy and honey chunky peanut butter. If you order take-out expect your burgers to come in a pizza style box as well. Owner John Greco states, "it's a homage to all the fast food we've come to know and love in the city by using these different take out containers for our food."
"The Price is right and the place is sizzlin' and sexy!" states 23-year-old patron Jonathan Vela.
123 Burger Shot Beer located at 738 10th Avenue in the heart of NYC's Hell's Kitchen,
Website: http://www.123burgershotbeer.com
123 Burger Shot Beer is Handicap accessible
Our operating hours are from 11AM - 4AM 7 Days per Week
Phone (212) 315-0123
Fax (212) 315-0050
Take Out Burger Orders Available
Bar, Burgers, Lounge
Owner & Executive Chef John P. Greco III
Designers: 4 U "R" Homes, INC & AZSK Architects
Architectural Firm: AZSK Architects
Builder: 4 U "R" Homes, INC
1800 Sq. Ft Interior
500 Sq. Ft outdoor deck space
45 Ft. Stainless Steel Bar
8 Flat Screen HD TV's
Nightly DJ's
Outdoor Smoking Area
Private parties available
Dynamic New Multimedia Symphony Quality Sound System
Extensive Burger, Shot, Beer & Fry Selections
Fantastic Extended Happy Hour 11 a.m.-8 p.m. Monday - Sunday
Bamboo 52 located at 344 West 52nd St. in the heart of NYC's Hell's Kitchen,
Bamboo 52 is Handicap accessible
Our operating hours are from 4 p.m. - 4 a.m. 7 Days per Week
Phone (212) 315-2777
Fax (212) 315-2726
Bar, Sushi, Lounge
Owner & Executive Chef John P. Greco III
Designers: Aya Matsumoto & Anthony Simon
Architectural Firm: CT Designs
Builder: Primitivo Rey of 4 U "R" Homes, INC
2,000 Sq. Ft Interior
1,500 Sq. Ft outdoor space
40Ft. Mesquite Bar
3 Flat Screen TV's
Nightly DJ's
Bamboo Garden
Smoking Porch
Dynamic New Multimedia Sound System
Extensive Cocktail, Sake, Beer & Microbrew Selections
Fantastic Extended Happy Hour
Philip Marie Restaurant located at 569 Hudson St. in the heart of NYC's West Village,
Philip Marie is Handicap accessible
Our operating hours are from 12 p.m.-12 a.m. Tuesday-Friday, 10 a.m.-12 p.m. Saturday, 10 a.m.-11 p.m. Sunday
Phone (212) 246-6200
Fax (212) 246-1278
Restaurant, American Cuisine, Romantic Dining
Owner & Executive Chef John P. Greco III
Designers: John P. Greco III & Suzanne Marie Greco
Sidewalk Café
Private Party Room
Wine Dinner For Two Available In Our Romantic Wine Cellar
Nightly Specials
Happy Hour 4 p.m.-7 p.m. Tuesday-Friday
# # #