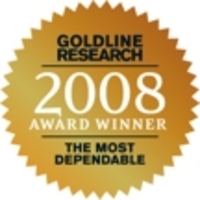 Once again we are very pleased to have YELLOW7 Interactive selected by Goldline Research
Dallas, TX (PRWEB) May 31, 2008
Yellow 7 has been selected by Goldline Research as one of the Most Dependable™ Web Designers of Texas two years in a row. The list of the 10 Most Dependable Web Designers of Texas is scheduled to be published in the March issue of Texas Magazine.
"Once again we are very pleased to have YELLOW7 Interactive selected by Goldline Research" said Jason Burgess, President and CEO of YELLOW7 Interactive.
"We are pleased to have Yellow 7 on this list" said Ryan Kluft, Publisher of Goldline Research. He also said, "They exceeded all of our industry criteria and had outstanding client references." Over 900 Web Designers were contacted regarding the list and the response was overwhelming.
YELLOW7 Interactive was founded over 10 years ago as a full service design agency. Over the years, YELLOW7 Interactive has produced many websites, stand-alone presentations, and marketing collateral all with design being the key emphasis. That emphasis is still present in YELLOW7's overall company strategy. However, as the web as changed, so has YELLOW7. "It isn't enough to produce an award winning website if nobody can find it" said Burgess. "That is why we encourage our clients to take advantage of YELLOW7's successful search engine marketing and search engine optimization strategies. It's a given that you are going to get great design…but now with better R.O.I.
Goldline Research is a list research and publishing company specializing in investigating the credibility and performance of companies in a variety of professional services industries for selective inclusion in their published The Most Dependable™ lists. Goldline Research works closely with leading professionals in professional services industries to develop criterion for each industry, which forms the basis for its selection process. Goldline Research's lists have appeared nationwide for over 4 years in a wide variety of print publications such as Southwest Airlines SPIRIT Magazine, Texas Monthly, San Diego Magazine, United Hemispheres Magazine, Delta Sky Magazine, Forbes, Fortune, LA Magazine and Phoenix Magazine. In order to be selected to a Most Dependable™ list, firms must meet all of Goldline Research's industry criteria, have no consumer complaints, lawsuits or disciplinary actions and provide client references that are checked and scored based on a proprietary scoring system.
YELLOW7 Interactive
3102 Maple Ave.
Suite 450
Dallas, Texas 75201
972-731-6720
http://www.yellow7.com
###