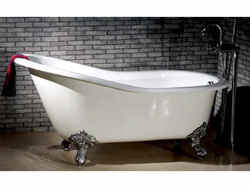 San Diego, CA (PRWEB) May 31, 2008
Simply Bathtubs is happy to announce the release of their new 57-inch slipper claw foot bathtub, part of the Antique Bathtubs line. This claw foot tub is made in the old world way, but has some modern twists to its design, making it a nostalgic modern luxury for discerning home decorators.
True to old world design, this claw foot bathtub has been created using enamel-coated cast iron, which has been properly finished to prevent chipping, dents and scratches. Cast iron is known for its ability to decrease vibrations and noise while insulating the temperature, helping water to stay warm longer. Some old world ways, for bathtubs at least, are still the best! One modern improvement that has been made is that this cast iron tub has a very thick coat of specialized enamel, which ensures that this top of the line antique bathtub will provide beauty and strength for many years to come. With its high heat fire-polished enamel finish, cast iron construction, and claw feet available in a variety of finishes, this nostalgic old world style bathtub is still an eye-catching beauty in the modern home.
This fantastic claw foot slipper bathtub is one of many unique bathtubs available on the Simply Bathtubs website: simplybathtubs.com. Simply Bathtubs is proud to have this beautifully and charming conversation piece of bathroom furniture in their wide collection of classic bathtubs, claw foot tubs, whirlpool tubs, and walk in bathtubs. As the demand for bathtubs with nostalgic styles and modern upgrades increases, the selection available by bathtub specialists should commensurately increase.
About Simply Bathtubs:
Simply Bathtubs is the leading online source for everything bathtubs! They offer quality traditional bathtubs, walk in bathtubs, whirlpool bathtubs, and claw foot tubs for your bathroom remodeling project. Their bathtubs come in several different styles and sizes so that customers can find just the right bathtub for their space and unique interior design. If floor space is limited in a bathroom, then a corner bathtub or modern bathtub is a great solution, but if there is a lot of floor space for the bathtub to be the centerpiece, then a claw foot bathtub or cast iron bathtub may work better. Simply Bathtubs offers quality bathtubs at low prices, with FREE SHIPPING in the continental U.S., and a great customer service experience.
###