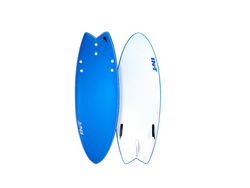 San Diego, CA (PRWEB) May 31, 2008
Buyboardz is happy to announce an exciting new surfboard release, the original rebel's surfboard called a blackball beater. With its extremely short length and narrow width and thin design, blackball beater surfboards are made for zipping around the waves with speed. Buyboardz now carries two types of specialized blackball beater surfboards to meet the demand.
The extreme shortness of the blackball beater, narrow width and thin design were created to beat the beach surfer blackball system. Surfers were banned from the swimming zones, unless their boards were under 5 feet, and the Blackball Beater stands at 4 foot, 11 inches. All surfers know the best waves are often in the swimming zones, so they can get in there with the rebellious Blackball beater.
The high performance fiberglass blackball beater surfboard with a soft top combines the best of both worlds, utilizing INT's cutting edge soft top technology and the swift blackball beater surfboard design. The fiberglass bottom gives high performance maneuverability and speed for the expert surfers out there. The performance resin or slick-skin bottom blackball beater surfboard with soft top is the perfect blend of maneuverability and safety for beginners or kids. Although the blackball beater is not generally a beginner's board, it can be a great surfboard for kids to get out there and try surfing.
With summer coming, there couldn't be a better time for Buyboardz, the leading online source for everything surfing to release these two new blackball beater surfboards. These original rebel boards come in two variations, with a high performance fiberglass or a softer, safer fish surfboard model. No matter what a surfer's skill level, Buyboardz maintains its commitment to boarding excellence.
About Buyboardz:
Buyboardz is the leading online source for everything surfing. They offer a wide selection of fiberglass and epoxy surfboards, softboards, longboards, and stand up paddle boards. They also offer the variations of the retro fish surfboard and can personalize boards with custom designs. Whether you're a longboarder or a shortboarder, or you want to branch out and try a new area of surfing such as stand up paddle boarding, Buyboardz is surfboarding central. Buyboardz offers their boards at wholesale pricing and provides a free leash with every surfboard purchase, because they believe everyone should be able to afford a board.
# # #