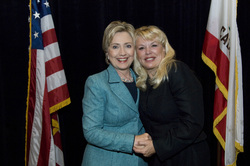 Do the right thing: Count Every Vote
Los Angeles, CA (PRWEB) May 31, 2008
At IT'S NO JOKE, COUNT EVERY VOTE (THE WORLD'S FAMOUS LAUGH FACTORY May 30, 2008 in Hollywood), over 6,756 online electronic signatures were gathered and sent to Chairman Howard Dean and the DNC Rules & Bylaws Committee. We urge the DNC to count 100 percent of every vote and allow 100 percent of the delegates to be seated. The 527-page petition is scheduled to arrive via FedEx on Saturday morning with the tracking number 864054151496. Please take the time out to read some of the comments to see what Americans are really thinking.
These are just some of the voices wanting to be heard who signed the petition:
Joan: "Do the right thing: Count Every Vote"
Joanne: "A simple solution would be to seat all the delegates and fine the state parties for breaking the rules. That would be fair. To disenfranchise a single voter would not be a fair solution"
Courtney: "All votes must count! We have the RIGHT to vote so ALL must count!"
Anonymous: "You should not be against allowing all the states to count as they voted. The voters had no say so in deciding when to vote in Florida. They had to vote when the Republicans dictated. And you should have spoken to the Governor to try to change his mind. So you have to take responsibility for not doing your best to prevent this mess the Democratic Party is now facing."
Justin: "Chairman Dean, Every vote counts! Please seat ALL the delegates and count ALL the votes from Michigan and Florida."
Anita: "In a race this close, we cannot afford to disenfranchise any voters or their representatives if we also expect to get their votes in November. Both candidates have excited and brought voters to the process -- it would be a horrible folly to alienate them immediately after bringing them to the fold."
Patricia: "IF you do NOT give the people of Florida and Michigan a full voice in choosing the DEMOCRATIC NOMINEE, then WHY in the world would Florida and Michigan voters choose to vote for a DEMOCRAT in the FALL?"
Lori: "I am from Michigan and i would like my voice and vote to heard. Michigan is a heavily Democratic state. We need our delegates in their seats to make it a fair race. History will be made if either Democratic candidate wins, but history will also be made if Michigan and Florida are not heard. To make it a fair and unbiased race, Michigan and Florida need to be heard and counted."
Anonymous: "Do the right thing. Regardless of which candidate the DNC has been pushing. Let us decide by our votes."
Sharon: "Will you be the people responsible for taking the concept of democracy out of the Democratic Party?"
Anonymous: "If these votes are not counted and the delegates not seated as they had originally voted, I'm voting for McCain in November."
Sincerely,
Teri Bernardi
Chris Jackson
PRESS CONTACT:
email: loveallanimals2002 @ yahoo.com
# # #