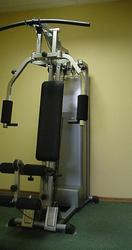 Moscow, Russia (PRWEB) June 6, 2008 -
Ph. D. Doctor Klimenko, engineer and physicist has created the first strength training device that has 4 major characteristics:
Speed of exercise is unlimited (Bicep curls can be done as fast as you can do them)
Non-Inertial load (weights cannot fall and injure the user, as with conventional weight stack devices)
Equal resistance (resistance does not change throughout the exercise cycle, as with Bow flex and elastic devices)
Does not depend on gravity (device can be attached to the ceiling and would perform the same)
$350,000 of investment and 5 years of development in collaboration with engineers from "Standarte" (Russian Engineering firm) have flourished into a working prototype.
Characteristics of the device (especially the fact that it does not depend on gravity) have intrigued the Russian Space Institute of Health which requested the prototype to be included on the MIR Space Station, but for the current time the device remains on earth.
Due to its safety characteristics, Ph. D. Doctor Klimenko sees the potential of the device in rehabilitation centers. The device can also be implemented into gaming exercise environments (functional training) that require unlimited speed of exercise and automatic change of weights.
Ph. D. Doctor Klimenko has over 15 years of applied experience and acted as the head engineer in several major government projects, he specializes in the research of fast processes (fluid dynamics, liquid dynamics, burning reactions). He hopes that aging baby-boomers (such as himself) would be able to benefit from the device, since it would let them perform various light and heavy exercises at a fast rate, without risk of injury.
###