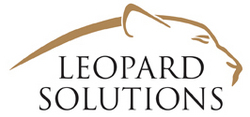 New York (PRWEB) June 5, 2008
Laura Leopard, Principal of Leopard Solutions, announced the launch of "Leopard Chat," a series of video interviews with legal professionals that showcases all facets of the legal industry.
The first interview is with Marina Sirras, President of the National Association of Legal Search Consultants (NALSC) and can currently be viewed on YouTube. Marina discusses what her organization brings to the attorney hiring process. NALSC has set the standard for law firm recruiting for many years and instills a high level of integrity into the process.
Mark Dighton from the Practising Law Institute (PLI) is the current Leopard Chat interviewee. PLI is 75 years young and is growing and changing with the times. Mark tells us how PLI is extending its scope and how CLE classes work for attorneys throughout the US. They have pioneered ways for law firms to insure that their attorneys attain required (and requested) CLE units. You may view Mark's interview, HERE.
Next month's Leopard Chat subject is Mary Kay Young of the Zeughauser Group. Mary Kay speaks about 'branding'. The Zeughauser Group is a marketing company for law firms, but the process of 'branding' extends beyond law firms or companies. She tells us how individuals can best market themselves while seeking a job, as well as how companies can give their 'product' a unique brand that will help them stand apart from their competition.
For more information about Leopard Chat, or to suggest a subject for the Leopard Chat series, please contact Laura Leopard at 1-800-718-8553. You may also use the email link provided in the 'Contact Box'.
About Leopard Solutions:
Leopard Solutions is the complete resource used by law firms, legal recruiters and law schools to keep informed about the legal marketplace. Leopard Solutions delivers information on attorneys, jobs and law firms in a robust, user-friendly format.
Products include The Leopard List (a search engine of partners, counsels and associates in the major US markets); Leopard Reporting (an overview of the legal landscape that is updated 4 times a year for more of a real-time look at the industry); and Leopard Job Search (listing job needs of almost 400 law firms nationally and internationally twice a day).
###