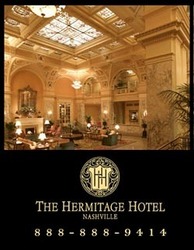 Our clients enjoy the personal attention and indulgent luxury of a stay with us. Because these are extraordinary times for drivers, we decided to do something extraordinary for our guests by offering up $50 worth of free gas and $40 off of our standard room rate
Nashville, Tenn (PRWEB) June 5, 2008
People who stay in five-star hotels don't worry about the price of gas -- right?
That's not how Tennessee's only Mobil Five Star and AAA Five Diamond hotel sees it. Just in time for the summer travel season, The Hermitage Hotel, one of the most popular downtown hotels Nashville offers, is providing its guests with free gas cards when they visit between June 9th and September 1st.
"Our clients enjoy the personal attention and indulgent luxury of a stay with us. Because these are extraordinary times for drivers, we decided to do something extraordinary for our guests by offering up $50 worth of free gas and $40 off of our standard room rate," said Director of Sales and Marketing Janet Kurtz.
Thus was born the 'Luxury Road Trip Getaway,' which includes a free $25 gas card for each of the first two nights of your stay -- a total of $50 worth of fuel -- plus a $40 discount on the hotel's standard room rate.
And there's even a special perk for drivers of hybrid vehicles: free valet parking the first night -- an additional $24 savings. The Hermitage Hotel is the first downtown Nashville hotel to provide guests with fuel-based incentives.
The $50 gas card alone -- not including the other discounts -- would more than pay for the drive to Nashville from within a 250-mile radius, according to the American Automobile Association's Fuel Cost Calculator.
Guests driving a standard full-size car to Nashville from select cities spend the following in gas based on a rate of $3.80 per gallon:
1. Atlanta, Ga.: $45.96
2. Lexington, Ky.: $40.15
3. Memphis, Tenn.: $39.76
4. Birmingham, Ala.: $35.30
5. Knoxville, Tenn.: $33.32
6. Louisville, Ky.: $32.92
The total $90 discount offered by The Hermitage Hotel -- a $50 gas card plus $40 room discount -- would pay for the drive to Nashville from cities almost 500 miles away, such as:
1. Chicago, Ill.: $90.72
2. Pensacola, Fla.: $83.44
3. Mobile, Ala.: $83.37
4. Jackson, Miss.: $77.15
5. Charlotte, N.C.: $73.87
6. Little Rock, Ark.: $64.87
7. Greenville, S.C.: $64.03
8. St. Louis, Mo.: $56.66
9. Cincinnati, Ohio: $52.36
# # #