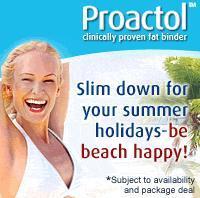 (PRWEB) June 7, 2008
We have all at some point in our lives regretted the way we've looked, especially when we have looked back over our summer holiday photographs. Yet despite our desires to get in shape and look more toned, many of us still choose to put off our diets until the following January, thinking this year's weight loss will never happen anyway according to our customers' experiences.
In response to this, Proactol.com has launched a campaign 'Be Beach Happy' to help you achieve the summer body you want and rightfully deserve.
Proactol.com are fully aware of how hard it is to lose weight, especially with the hectic lives we all lead. According to recent findings from the HMR (Health Management Resources) reportedly we rarely lose those extra lbs gained during our adult lives. Also, according to our customer's surveyed, they often experience the modern day struggle of finding time to set aside for themselves in order to be fit and healthier. The temptation to starve yourselves or take short cuts to weight loss can often do more damage to your health than good.
Proactol are offering you the chance to lose weight naturally without damaging your health. They have put together a collection of weight loss tips and advice to give you the summer body you both deserve and crave.
The non-surgical choice to weight loss, clinically proven to work
100% natural with no known side effects, Proactol is medically backed by the Medical Device Directive 93/42/EEC and is clinically proven to reduce your dietary fat intake by up to 28%.
As Dr Adam Carey, nutritional adviser to England's Cricket and Rugby teams explains: 'Proactol could provide a kick start for those who find it hard to take control of their weight…decreasing food cravings, suppressing appetite and reducing blood cholesterol.'
On your holidays you no longer need to worry so much about indulging in those exotic foods and wines. If you continue to use Proactol whilst you are away you can still feel the natural benefits of healthy weight loss without having to sacrifice what you have accomplished at home. Proactol can help you to maintain your newly toned body and feel confident around your friends and family as you sunbathe on the beach.
Proactol costs up to £22.56 for 120 tablets* and is available to buy from Proactol.com or by phone on 0115 9798449
*Dependent on Packages
About Proactol.com:
Established in 1997, Proactol has gone from strength to strength, proving itself to be one of the leading market promoters of natural weight loss. Medically backed, and with 5 clinical trials proving the quality of its results; Proactol has been featured in The New York Times and is highly recommended by the readers of Telegraph.co.uk for its astounding results.
For more Information:
For more information on how to set up an interview, receive samples or sign up to a trial with Proactol, please contact Katie Downing-Howitt on either her email Katie@proactol.com or on her number +44 (0) 1159708449 for a chat.
-http://www.proactol.com
-http://www.proactol.com/bebeachhappy.html
Contacts:
UK: 0115 9798449
USA: 18003389957
AUS: 1 800 046194
INT: +44 115 9798449
###