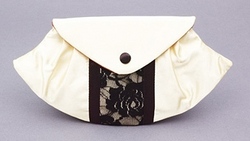 New York, NY (PRWEB) June 6, 2008
After specializing in luxury yoga mats since 2005, RoZCoo LLC (pronounced Rosie Ku) has launched a line of stylish everyday accessories for men and women. The line's signature pieces include brightly colored large purses with nautical lining for women and a handsome corduroy messenger bag for men. Smaller accessories are also available. In line with the vision behind this brand, all products are 100% animal-friendly and designed with the needs of the user in mind.
RoZCoo products range in retail price from $16-119. Wholesale prices and ordering information are available upon request, and products are now available to the public for purchase at http://www.rozcoo.com.
RoZCoo was founded by Rosemary Ku, an MD/MBA candidate at Columbia University. Besides her science background, she has been working with fashion designers and stylists in NYC since 2004. While accepting that fashion will always include furs and animal skins but armed with a vision that living in style does not require sacrificing animals and millions of dollars, Rosemary aims to open the minds and hearts of the public to a new type of luxury.
###