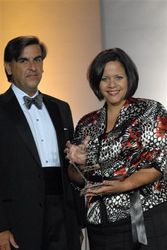 Atlanta, GA (Vocus) June 6, 2008
Maria Odom was honored as Businesswoman of the Year by the Georgia Hispanic Chamber of Commerce at their twentienth annual Awards Gala.
Maria M. Odom is an expert in immigration law and advocate in the area of deportation defense, leading Kuck Casablanca & Odom, LLC's litigation group in the current complex and unpredictable immigration arena. Her achievements in the business sector are paralleled by her extensive commitment to serving the Hispanic community. Ms. Odom tirelessly donates her time as teacher at the Latino Law School and as a mentor on removal matters to fellow immigration attorneys nationwide. She currently co-chairs Catholic Charities Scott's Run a fundraising event to be held in October at Chastain Park in Atlanta, Georgia, and which helps fund free legal services for immigrant children in removal proceedings.
Ms. Odom was thrilled to receive this honor, as nearly 900 attendees paid tribute to her achievements at the Hyatt Regency on Saturday, May 31st as part of the Georgia Hispanic Chamber's Twentieth Annual Awards Gala. "I am honored and grateful to be among such a fine group of honorees and corporate sponsors. But I am not the only one recognized for my work tonight – this award sheds light into the endless work of the many excellent immigration attorneys nationwide who are fighting to keep families together and who advocate each day for an immigration system that makes sense, is fair, and protects both the individual and the country."
###