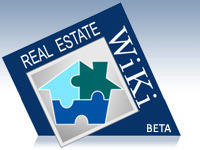 Aliso Viejo, CA (PRWEB) June 6, 2008
Five months and a 200% increase - from 7,000 to 21,000+ entries - has tripled Real Estate Wiki since its launch in January. The non-profit wiki focuses exclusively on quality and free real estate information to home buyers, sellers and owners and industry professionals with no advertising of any sort.
According to a Real Estate Wiki spokesperson the three most popular categories used by consumers are the Glossary of Real Estate Terms (containing almost 3,000 terms), the over 600 Acronyms and the 1,500+ Frequently Asked Questions. The FAQ's are divided into 20 different categories such as Home Buying, Legal and Closing, Disclosure and Inspections, Staging, Marketing, Foreclosure, REO and Short Sale.
Similar to Wikipedia everything in Real Estate Wiki is of course searchable, but different than most other wiki's Real Estate Wiki has taken the real estate information and systematically also crossed referenced it into 70 industry and functionality categories. This makes finding key information even quicker and placing comparable information side by side very simple. During June another 30 categories are being added to enhance this feature even further.
For real estate professionals the three most popular activities are: Adding their personal bio's and company profile, the information on real estate business service providers and lastly the downloading the Real Estate Wiki Widget.
The "Wiki Widget" allows brokers and agents the ability to add this search bar to their own website thereby enabling their customers to gain access to the information on Real Estate Wiki without leaving the own website. The "Wiki Widget" can be downloaded from http://www.realestatewiki.com/widgets.html.
Real Estate Wiki is a privately funded, non-profit venture and does not allow any banner or content advertising on their wiki. Participation and usage for both consumers and professionals is also free. Go to http://www.RealEstateWiki.com to enjoy one of the powerful benefits of Real Estate Web 2.0.
###