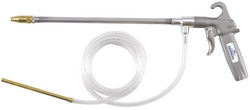 Chicopee, MA (PRWEB) June 11, 2008
Siphon technology has long been used to aid in industrial spraying applications. Guardair has developed a series of siphon spray guns which utilize the power of compressed air to drive the siphon spray action. A good example is their model 79SG012. Simply attach a standard compressed air line to this gun and drop the suction tube into the desired fluid. The air passing through the gun draws the liquid up into the extension where it is dispersed at the nozzle tip. The nozzle features an adjustable spray pattern for precise fluid control.
The 79SG012 Siphon Spray Gun is perfect for almost any fluid including detergents, oils, or pesticides. Delivering up to 16 gallons of liquid per hour, this gun features lightweight aluminum construction with ergonomic grip, 12" extension, wide comfort trigger, built in hanging hook, 6' siphon hose, brass sinker, adjustable nozzle, and 1/4'' FNTP air inlet. The 79SG012 is only one of several siphon spay guns offered by Guardair.
About Guardair
Guardair Corporation manufactures safety air guns, siphon spray guns and pneumatic shop Vacuums for industrial cleaning and maintenance applications. Founded more than 50 years ago, Guardair Corporation incorporates the latest in safety features, pneumatic technology, and ergonomic design into all of its air tools. Visit them online at http://www.guardaircorp.com.
# # #