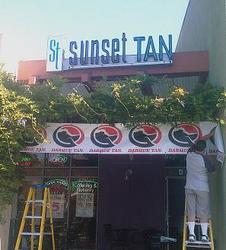 We are excited for the opportunity to expand in California and look forward to more acquisitions in this growing market
Newport Beach, CA (PRWEB) June 7, 2008
The Newport Beach location of the TV reality show hit- Sunset Tan, was recently acquired by the fast growing Texas-based chain, Darque Tan. This is part of Darque Tan's West Coast expansion, having previously purchased Solaris Tan in Chino Hills and Unique Tan in Brentwood, earlier this year.
"We are excited for the opportunity to expand in California and look forward to more acquisitions in this growing market", said Robbie Segler, owner of Darque Tan. Segler owns 80 Darque Tan salons throughout Texas, Florida, Massachusetts, Minnesota, and now California. There are an additional 20 Darque Tan licensed salons operating in Texas, Colorado, Nevada and Arizona.
"The Indoor Tanning Industry is consolidating into larger brands and we want to be a part of this trend", said Segler, noting that "the recent emergence of Vitamin D and its link to UV exposure is casting a more favorable light on our services and bodes well for the future of this Industry".
Darque Tan is considered an Industry leader offering unlimited tanning in high-end luxury salons for less than $20 a month. Darque Tan salons are lavishly outfitted with marble counters, granite flooring, and barrel-vaulted ceilings, complete with elegant chandeliers. Equipped with the most modern tanning machines, Darque Tan seems poised to emerge as an identifiable brand in this growing Industry. To learn more about Darque Tan's memberships and locations, visit http://www.darquetan.com.
###