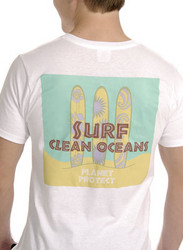 I've spent my life around oceans and water and feel strongly about protecting our future, and aligning with Oceana helps ensure that we have a blue planet now and in the future
Lake Oswego, OR (PRWEB) June 9, 2008 -
The levels of ocean based pollution are increasing at alarming rates. In particular, the levels of mercury and plastic pollution. The designers at Planet Protect Sportswear® have decided to launch several T-Shirts to help remind people the value of our oceans and to raise money for Oceana - one of the largest ocean advocacy groups in the world.
Planet Protect founder - Jim Beriault, a long-time ocean advocate, has seen the increases in pollution (especially plastic in our oceans), and started Planet Protect Sportswear to raise money, awareness and sell clothing that has meaning. This spring he asked his designers to come up with a line of T-shirts that are surfing inspired and tell a story - a simple story - Surf Clean Oceans. "It's frustrating that more and more areas along the West Coast are dangerous to surfers due to organic waste, general pollution, chemical run-off and other hazards. It completely boggles my mind that we have to be concerned about enjoying our time in the oceans today," noted Beriault. "I have three kids, and I'm worried each time they play in our oceans - what's on their skin and in their mouths while they play in the water. That's not right."
The Surf Clean Oceans T-Shirts are 100% Organic and made in the USA.
Planet Protect's primary goal is to help fund Oceana (http://www.oceana.org) fight against ocean pollution and seek to protect our most valuable resources for future generations. During the check-out process the Planet Protect customer can designate 10% of their total purchase to Oceana or the Planet Protect Fund (the company's lobbying fund). Planet Protect Sportswear can be found on the web at http://www.PlanetProtect.com.
"I've spent my life around oceans and water and feel strongly about protecting our future, and aligning with Oceana helps ensure that we have a blue planet now and in the future," said Beriault. "When you choose Oceana during check out on our web site - you are helping fund numerous campaigns to protect our oceans, health and communities. Their primary fight right now is mercury pollution, and I can't support this effort strong enough - it's vital for our health that polluters cease dumping mercury into our air and water."
It's important to note that Planet Protect Sportswear makes their donations based on the total purchase price (excluding shipping and handling charges) of the customer and this donation comes from Planet Protect's gross profit as a company and is not tax deductible on the customer's part.
# # #