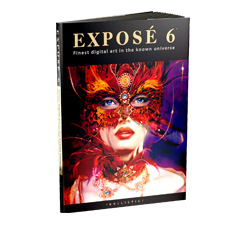 Adelaide, Australia (PRWEB) June 12, 2008
Ballistic Publishing announces EXPOSÉ 6, the latest book in its groundbreaking series celebrating the World's finest digital art. EXPOSÉ, the flagship title of Ballistic Publishing, has become an institution in the digital art world. Acclaimed for their high quality, every year the EXPOSÉ books showcase the best digital art from all over the globe. Judged by an International team of industry leaders, this year's edition features 334 inspiring images prepared by 257 artists from 43 countries, as well as boasting a raft of new artwork including that of 135 unpublished artists drawn from a pool of over 5,130 entries.
EXPOSÉ 6 showcases the world's best digital art in the categories of: Portrait (Painted & Rendered); Fantasy; Fantasy Femmes; Architecture (Exterior & Interior); Concept Art; Creatures; Environment; Futurescapes; Matte Painting; Science Fiction; Abstract & Design; Product Design & Still Life; Warriors; Conflict; Humorous; Whimsical; Storytelling and Transport. Printed to the highest standards, EXPOSÉ 6 features individually color-corrected pieces of original art with a richness and depth not found in other digital art books.
Entries were judged into Master and Excellence classes by a group of industry experts including: Lorne Lanning (Co-Founder, President, and Creative Director, Oddworld Inhabitants), Brom (renowned fantasy artist), Christopher Sloan (Art Director, National Geographic Magazine), Stephan Martiniere (renowned science fiction and fantasy artist), David Wright (Creative Director, NVIDIA), Max Dennison (Founder, Matte Painting UK), Phil Straub (renowned illustrator), Ryan Church (blockbuster concept artist), and Jeff Mottle (Founder, CGArchitect.com).
EXPOSÉ has evolved to become more than just a book - it is now a major event. Over six years Ballistic Publishing has assembled the top talent in the digital arts industry to collate, judge, and publish cutting-edge digital artwork. This has positioned EXPOSÉ as the industry's yearbook, shining a spotlight on new work and emerging artists. As the definitive reference of 'must see digital artwork', Ballistic books can be found in the top movie and game studios across the globe.
Pricing and Availability:
EXPOSÉ 6 is available in three editions: Hard Cover (USD$75); Soft Cover (USD$64); and Limited Edition (USD$170). More details about the books and availability can be found on the Ballistic Publishing website at: http://www.ballisticpublishing.com/books/expose/expose_6/
The Limited Edition release also includes an additional 16 pages of artist profiles and 8 Limited Edition prints, these prints are also available to the first 300 Soft Cover and Hardcover Buyers.
Expose 6 Publication Details:

ISBN: 978-1-921002-50-2 (Softcover), ISBN:978-1-921002-49-6 (Hardcover), ISBN: 978-1-921002-51-9 (Limited Edition)
Pages: 224 pages (Soft Cover & Hard Cover)/ 240 pages (Limited Edition)
Dimensions: 220 x 297mm
Editors: Daniel Wade, Paul Hellard
Co-Publishers: Mark Snoswell, Daniel Wade
Shipping: Mid June 2008
About The CGSociety and Ballistic Media:
Ballistic media operates two major divisions-The CGSociety and Ballistic Publishing. The CGSociety is the world's largest society of professional digital artists and provider of forums, portfolios, training, jobs and event services for the digital arts industry. Ballistic Publishing is the leading, award-winning, independent publisher of books for the digital arts industry. Dedicated to publications of the highest quality celebrating the talents of digital artists worldwide, Ballistic has set the benchmark as a quality boutique publisher. Ballistic Media is based in Adelaide South Australia, with offices in Melbourne (Victoria, Australia) and Tampa (Florida, U.S.).
For more information, images and review copies please contact:
Annie O'Neill - Manager, Marketing & Brand Development
annie @ ballisticmedia.net
Ph: +61 8 8463 1866
###