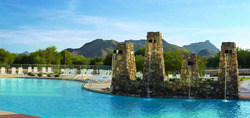 skyrocketing pump prices and the wider economic malaise
Scottsdale, AZ (PRWEB) June 10, 2008
Back by popular demand, the Radisson Fort McDowell Resort & Casino (http://www.radisson.com/ftmcdowellaz), owned by the Fort McDowell Yavapai Nation and managed by Tristar Hotel Management Company, is featuring fun-in-the-sun SunSational Getaway packages. This is the third summer in a row that special Scottsdale summer getaways have been offered by Scottsdale's only AAA 4-Diamond resort and casino.
Through September 1, 2008, the $139 weekday/$159 weekend (Friday, Saturday night) Scottsdale vacation packages (per room, per night) include a $75 resort credit per guestroom, per night, redeemable at the Ahnala Restaurant & Lounge, Pool Café, Amethyst Spa & Boutique (spa and salon treatments only), poolside BBQs, and/or for room service. Also included is free membership in Fort McDowell Casino Fortune Club with $10 in Casino credit (new members only), free Saturday night dive-in movies, live poolside DJ on Friday and Saturday nights, free pool activities for the kids, and a poolside BBQ with special pricing on Friday, Saturday and Sunday.
Guests who stay Friday and Saturday nights can extend their stay on Sunday night for only $59 per guestroom (resort credit does not apply.) Also available are special rates at the We-Ko-Pa Golf Club, as well as horseback riding, river floats and Jeep tours through Fort McDowell Adventures (at extra cost.) Everyone who books and stays at the resort during the promotional period is entered into a Grand Prize Drawing for a free trip to Disneyland. For more details, and contest rules and requirements, visit: http://www.radisson.com/tripforfour.
"This Arizona vacation package is the ideal way for out-of-state visitors and Valley residents to experience 'the adventurous side of Scottsdale,'" explained Greg Carrish, general manager of the Radisson Fort McDowell Resort & Casino. "The $75 per night resort credit allows our guests to sample our authentic Arizona cuisine with a Southwestern twist at Ahnala Mesquite Room, or indulge in a wonderful pampering treatment at the Amethyst Spa & Boutique. After spending time at the pool and enjoying the wide variety of activities the resort offers for parents and children, our guests may also opt to try their hand at the slot machines, take a horseback ride down the Verde River, or hop into a Jeep or Hummer for a desert tour. They can truly customize their own local Arizona getaway based on their personal preferences and budgets."
The resort also recognizes the current trend toward guests vacationing closer to home. The U.S. Energy Information Administration cited "skyrocketing pump prices and the wider economic malaise" in predicting a decrease in summer gasoline demand. Higher gas prices may encourage Americans to vacation closer to home. Also, according to Deloitte's October 2007 Travel Study, 47% of respondents reported taking shorter and fewer vacations than they used to, suggesting a new trend toward mini-vacations in lieu of longer getaways.
"Any of our guests who choose to come back for a second SunSational Getaway and stay anytime through September 1, 2008 will receive a $10 coupon per night for free gas at nearby Baja Gas," added Carrish. "This is our way of acknowledging these challenging economic times, and saying 'thank you' for their continued patronage in making our resort their Scottsdale summer getaway."
For more information on the SunSational Getaway packages available at the Radisson Fort McDowell Resort & Casino, visit http://www.radisson.com/azsummer.
About Radisson Fort McDowell Resort & Casino:
Located amid the pristine desert setting on Scottsdale's eastern edge, the Radisson Fort McDowell Resort & Casino offers an exciting desert resort experience. 246 contemporary guestrooms and suites, designed with Native American traditions, feature Sleep Number ® beds and numerous superior amenities. Guests can enjoy breathtaking mountain views, championship golf, restaurants/lounges, pools/whirlpools, and 24-hour gaming and entertainment at the Fort McDowell Casino.
The resort is an enterprise of the Fort McDowell Yavapai Nation, and is managed by Tristar Hotel Management Company.
Contact:
Gail Manginelli
GM & Associates
480-563-3414
gmmang @ cox.net
# # #