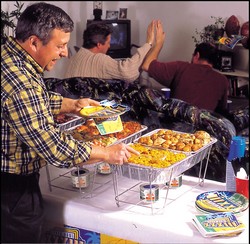 About 95 percent of our customers return or re-use the Skorr chafers, so they're like a walk away reminder to order Qdoba the next time
Torrance, CA (PRWEB) June 10, 2008
Skorr Products, the leading supplier of catering quality domestic wire chafers, announces that it is providing wire chafers to Qdoba Mexican Grill, a nouveau-Mexican fast-casual restaurant chain and subsidiary of Jack in the Box Inc., with more than 430 locations nationally. The wire chafers will be included in large catered or self catered Qdoba orders.
The food warming stands, known as wire chafers, keep food hot during a party or gathering as wire frames support food trays over "keep warm" flames. This frees those hosting the party from kitchen duty since guests serve themselves buffet-style.
"The chafers help us provide customers with hot, fresh food virtually anywhere at no extra cost," says Chris Bingel, Qdoba Catering Brand Specialist. "Even the meat stays tender and juicy, marinating and slow cooking on site, if the party or meeting goes long."
"From birthday parties and holiday celebrations to office meetings and parties, our catering business is growing by word of mouth," adds Bingel.
What makes the wire chafers well suited to the needs of busy party hosts is their combination of professional presentation, safety, durability, affordability, and American-made quality. The Skorr wire chafers use a multi-patented design with four flat-bottomed corner legs for the widest stance and greatest stability in the market. IMR Test Labs of Lansing, N.Y. found that on the tipping/spilling test, the Skorr brand of domestic-made wire chafers was over four times safer against tips and spills than imported ones. For greater structural integrity to prevent collapse, it uses wire of significantly heavier gauge with stronger welds than imported competitors, and has eight vertical supports from table to rim vs. typically four for imported chafers.
"The chafers uniquely extend our reach beyond our walls and get our name out there," says Bingel. "With one chafing rack, we can reach at least 20 people that might never have tried us before. Our catering product is a great advertising tool."
"About 95 percent of our customers return or re-use the Skorr chafers, so they're like a walk away reminder to order Qdoba the next time," adds Jason Plourde, General Manager of Qdoba's downtown Denver location. "The chafers come back in the same shape they went out and wash easily. Some customers even set them up for us ahead of time, which saves time if we deliver."
"The Skorr chafers help us stand out from the competition and are an important component of our Hot Bars," concludes Bingel. "They help strengthen Qdoba's reputation for quality, convenience, customization and value among customers, and will continue to do so as we grow our business."
Skorr wire chafers have won the Best Quality Award from the Professional Chefs Association and are a favorite among those hosting or catering parties.
For more information, contact Scott Sitzberger at Skorr Products; write 90 George St., Paterson, N.J. 07503; call 973-523-2606; fax 973-523-3009; email scott @ skorrproducts.com; or visit http://www.skorrproducts.com.
###