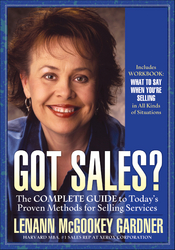 Years ago, Zig Ziglar advised us to get our prospect talking about why he would want to own this… and that's good advice today, too
Albuquerque, NM (PRWEB) June 9, 2008
In these challenging economic times, the biggest obstacle to closing a sale isn't the price, it's the salesperson's ability to sufficiently sell, according to sales and marketing consultant Lenann McGookey Gardner.
"A lot of business people are essentially waiting to take orders from people who want to buy. That's not selling, that's order taking. For most folks, people who are ready to buy aren't calling us. Selling is reaching out for the business we'd most like to have," says Gardner, author of Got Sales? The Complete Guide to Today's Proven Methods for Selling Services (Jarndyce & Jarndyce).
Gardner notes that those who are in the habit of cutting prices to get the sale are not really selling either. She cites a study done with corporate purchasing professionals indicating that price usually isn't the most important factor in buying decisions.
"Every buyer says they're concerned about price, of course, but when purchase decisions are made, other things turn out to be even more important," explains Gardner.
This study revealed that when a major corporate purchase of more than $50,000 was under consideration, the top concerns of the buyers, in order of importance, were price, quality, the people doing the work, and the delivery (or "when can we get the results"). After the purchase was made, the researchers asked why a particular vendor was chosen, and the answers were reversed - price ended up being only the fourth most important consideration, after delivery, the people doing the work, and quality, in that order.
Gardner suggests the following five tactics to close the sale without cutting prices.
Deal with price last.
Any price out of the context of what it does for the buyer, is too high. "Don't be lured into a discussion of price before you learn what you'll be doing for your buyer, and the value that will have for him," says Gardner.
Never discuss a range of prices.
"People have an 'everything is negotiable' mentality now. So when you mention a range of prices, they hear the lower number, and they will be negotiating you down from there," Gardner explains.
Talk in terms of "the investment" rather than "the price."
Whenever possible get a prospect thinking about the return on investment she will receive from this purchase. "Years ago, Zig Ziglar advised us to get our prospect talking about why he would want to own this… and that's good advice today, too," says Gardner.
Understand the "true price buyer."
The true price buyer makes his buying decisions purely based on what's cheapest. For most sellers of business services, such a buyer simply isn't a prospect. It's been estimated that true price buyers are less than 10% of people in the market for most products and services. Gardner suggests, "If you're dealing with a true price buyer, and you're not the cheapest option in your industry, walk away."
Hone your sales and closing skills.
"First rate sales and closing skills training will help you deal with the ever-present price objections that kill sales," says Gardner. "Most people need a framework for dealing with objections, and practice in using that framework, to be effective when a prospective buyer says, 'It costs too much.' And that framework should be based on current sales research about the approaches that work in today's market - not old learning."
Lenann McGookey Gardner, a Harvard MBA and a past #1 worldwide sales rep at Xerox, offers keynote speeches on state-of-the-art selling and closing skills and executive and sales coaching for business success. Her book Got Sales? The Complete Guide to Today's Proven Methods for Selling Services is the one guidebook highlighting all the latest research and data on what's working now in contemporary selling. More information is available at YouCanSell.com.
###