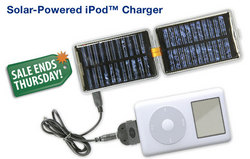 You can charge it up and then keep it stored until you need it most
San Antonio, TX (PRWEB) June 9, 2008
Milliamp LTD, which owns the website http://www.ipodjuice.com , has a brand new solar power iPod charger that can charge any iPod or iPhone just from the rays of the sun.
A solar-powered iPod charger is a must if you are heading to the beach, going on a camping trip, or contemplating the possibility of surviving World War III,and still want to listen to your music all day long. Seriously, though, having the ability to charge you iPod from the sun let's you use an iPod in more places than you ever thought of before.
"Our solar iPod charger not only absorbs power from the sun, but also charges via wall outlet," said Anthony Magnabosco, the owner of http://www.ipodjuice.com. This charger also comes with a slew of adaptors for not only the standard port at the bottom of iPods and iPhones, but for a wide variety of cell phones as well.
The device itself is black, small, and compact. It has a smooth exterior and the two inside panels have enough surface area to soak up the rays and quickly charge up the 1200 mAh lithium battery tucked inside. This is a large amount of power, and far exceeds the playtime that comes inside most iPods when they leave the factory, resulting in hours and hours of more playtime.
If you think about it, once the battery inside the solar-powered iPod charger is fully juiced up, you have a stash of power at the ready for the times you need it most. "You can charge it up and then keep it stored until you need it most," continued Magnabosco.
This is not the first iPod charger that has been available at the ipodjuice.com website. They have wall outlet chargers, automobile chargers, and data cables that charge up the earlier iPod modesl as well as the new models like the iPhone, iPod touch, and iPod classic. They even have USB and FireWire cables that charge your device let you transfer songs to your computer.
This particular solar-power iPod charger has been available for a few months now, and the customer response has been extremely favorable. "We hear from customers all the time who rely on this solar charger during their outdoor activities," added Magnabosco. One customer even reported that he uses his solar iPod charger when he is on his boat, another use that many people may never even considered before.
Just in time for summer, the price of their iPhone and iPod solar power charger and charger has been reduced, so now is the time to order yours and get one while it's hot (and sunny).
Milliamp LTD specializes in providing Apple iPod repair for all models of the iPod and iPhone.
Milliamp LTD and http://www.ipodjuice.com are in no way associated with Apple Computer, Inc.
'Apple', 'iPod', and 'iPhone' are trademarks of Apple Computer, Inc., registered in the U.S. and other countries.
###