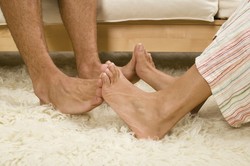 Everyone thinks that sneakers will be automatically comfortable because they are, well, sneakers, but even they need to be fitted properly
Edison, NJ (PRWEB) June 10, 2008
We make it a priority to work out to keep our bodies in shape, but our feet are often neglected. If you think no one's looking at your feet, think again. According to a new national survey* conducted for Microplane Personal Care, more than a third of women (37 percent) and a quarter of men (25 percent) feel that poorly maintained feet are a "toe-tal" turn-off.
Podiatrist and foot/ankle surgeon Lee S. Cohen, DPM, and podiatrist Oliver Zong, DPM, director of surgery at NYC Foot Care and attending physician at New York Hospital Downtown, identify five common men's feet issues and offer their solutions:

Improper Athletic Footwear: "Everyone thinks that sneakers will be automatically comfortable because they are, well, sneakers, but even they need to be fitted properly," says Dr. Cohen. "As a consultant to both the Philadelphia Eagles and Sixers, I can see how important wearing the right footwear is for athletes of any caliber." Dr. Cohen advises that, instead of buying sneakers off the rack, go to a place where they spend some time to assess your needs, size and fit. For instance, some running shoe stores will actually have you run on the treadmill to see where your foot and ankle "trouble spots" are to make sure you get the right shoe.
Athlete's Foot: According to a new national survey** conducted for Certain Dri Feet, thirty percent of U.S. adults admit to suffering from problematic foot sweat. "Most of the socks or workout shoes we wear don't allow foot perspiration to evaporate naturally," explains Dr. Zong. "The warm moist environment then encourages the growth of bacteria and fungi, leading contributors to Athlete's Foot and toenail fungus. "In addition to alternating your workout shoes, avoid athlete's foot by controlling excessive foot sweat with new Certain Dri Feet Moisture Control Pads, formulated with 12 percent aluminum chloride the ingredient recommended by the American Podiatric Medical Association for controlling foot moisture.
Calluses: Dr. Cohen says that while especially severe callus conditions may likely require a trip to the podiatrist for consultation, there are now great advances in at-home callus removal. "Anyone who's had really tough skin on their feet knows that things like pumice stones and scrubs don't really have much of an impact," says Dr. Cohen. "But I don't recommend turning to tools that utilize cutting instruments like razor blades at home." Instead, Dr. Cohen recommends the Microplane® Foot Files, which utilize tiny, bi-directional files - made from a patented photo-etching process - to remove dry skin and tough calluses on the feet gently, effectively and, most importantly, safely.
Stinky Feet: The Certain Dri Feet survey also found that twenty-two percent of U.S. adults admit to problematic foot odor being a problem. Foot odor caused by excessive sweating of the feet can be embarrassing and bothersome. "It's important to wash your feet each day after your workout," explains Dr. Zong. However, for 'extra' protection from foot odor try new Certain Dri Feet Microsponge Powder. Certain Dri Feet Microsponge Powder contains the patented Microsponge Delivery System that is triggered into action with heat, friction or moisture to release five odor fighting ingredients that all work continuously throughout the day to keep feet fresh."
Too Much Pressure: Makes sense…the less you weigh, the less pressure on the feet. "It is just a matter of gravity," says Dr. Cohen. "Keep in mind that every time you take a step, you put the pressure of more than double your body weight on that foot, so the more you weigh, the higher the pressure." Shedding even 10 pounds can make a difference on foot problems.
Visit http://www.certaindrifeet.com for additional information about plantar hyperhidrosis or Certain Dri Feet product information.
###