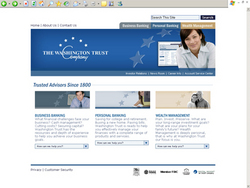 We are creating an environment that is high-tech and high-touch, offering fast, secure banking options that will fully optimize our customer's time
Westerly, RI (PRWEB) June 10, 2008
The Washington Trust Company announces the opening of a new Washington Trust Bank Branch at 156 Westminster Street in Providence's Financial District. In the fall of 2008, the Bank's current Providence Branch, located at 180 Washington Street, will relocate to the Westminster address and the new branch, which brings together the best in technology and customer service, will open.
The Bank has entered into an agreement with Diebold, Incorporated to provide hardware, software and traditional banking equipment to assist in creating a high-efficiency branch. The 3,100 square-foot branch, located in a building owned by 156 Westminster, LLC, will feature an upscale, contemporary tech-savvy environment, designed by Bruce Bisbano, AIA of Providence's Bisbano & Associates, Inc.
"We are creating an environment that is high-tech and high-touch, offering fast, secure banking options that will fully optimize our customer's time," said B. Michael Rauh, Jr., Executive Vice President of sales, service and delivery. "We don't view technology as a replacement for service, but rather a complement to it. It's all about providing options for our customers."
Washington Trust will use Diebold's technology to provide customers with a variety of methods for conducting of their transactions. The new branch will feature a concierge station and Diebold's identiCenter®, a self-service kiosk-queuing system. This will allow customers to use the specially designed waiting area to check in, check their email or online checking accounts, pay bills, or watch television rather than waiting in line. The new branch will also include free checking accounts, Diebold's "Express Cash Recycler" (ECR) to count, verify, and sort deposits and "ImageWay®" check imaging, which ensures the safety of customers' deposits by providing an image of the checks they deposited on their receipt.
"When approaching Diebold, Washington Trust emphasized that it wanted to create a Washington Trust Bank Branch that would use technology to support, not replace, customer service," said Charles Ducey, Senior Vice President of global development and services at Diebold. "With our advanced technology in branch optimization, we're providing an end-to-end solution that will allow our customers to reap the benefits that technology offers, and increase their focus on customer service, resulting in an all-encompassing high-efficiency branch."
For more information, visit Washtrust.com.
About The Washington Trust Company:
The Washington Trust Company is a subsidiary of Washington Trust Bancorp, Inc., a $2.5 billion corporation headquartered in Westerly, Rhode Island. Washington Trust offers a full range of financial services, including business banking, free checking accounts and wealth management and trust services.
About Diebold, Inc.:
Diebold, Incorporated is a global leader in providing integrated self-service delivery and security systems and services. Diebold is publicly traded on the New York Stock Exchange under the symbol "DBD." For more information, visit the diebold.com.
# # #