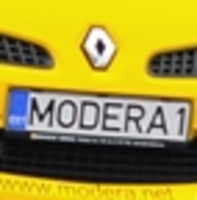 London, UK (PRWEB) June 7, 2008
Content management software specialists Modera http://www.modera.com is extending promotion of its Nürburgring driving weekend competition to all EU regions.
The Modera Nürburgring weekend competition http://www.modera.com/campaign/trackday allows entrants to sign up to at for a chance to win a great experience on a world famous race track. Entrants will have the opportunity to win an expense paid trip to the legendary race track in Germany, using the specially prepared Modera Renault Clio race car courtesy of the CMS specialist company.
Modera is opening the competition to the rest of the EU as it builds upon is continued growth throughout the region. The content specialists' products are being successfully used by small enterprises through to large organisations globally such as Citizen Watches, Jamiroquai.com, Nissan, Snowdog Records, The Fly (part of the Mama Group Plc) and Trigon Capital.
Siim Vips, CEO at Modera explains, "Building upon our successful growth throughout the EU we are planning to launch new services later this year and make best use of our existing partner networks. The competition is an introduction to Modera and how we can bring better products and value to businesses within this region.
We will be able to deliver more services to existing organisations that we work with and can increase the amount licences delivered to a range of companies that can benefit from superior software products. We are renowned for bringing clarity in addressing business technology needs, providing solid customer support and services at competitive pricing in a marketplace that can often be confusing for customers."
Modera currently specialises in four flexible product areas that are all able to be adapted to suit a variety of SMEs through to global corporations.

Modera Webmaster, content management providing fast, cost-effective means for creating, deploying and maintaining dynamic, content-rich websites;
Modera Intranet an internal web-based system that manages internal information flow and unifies messaging;
Modera Extranet, a information manager, bridging online communications between a company and its customers and
Modera relations, customer relationship management providing organisations with cost-effective means for building CRM based on business needs.
"Modera has demonstrated that it provides quick and easy transition for businesses that are implementing Modera product suite from complicated and expensive platforms with precision to our new systems. Our cost effective and scalable models have surprised many by exceeding expectations on projects that we deliver. We can keep clients systems fresh and competitive; implementing social media and Web 2.0 modules that are ahead of the current trends.
All Modera services are secure, adhering to Web standards and are managed in a non-interruptive way for businesses operating within challenging environments," adds Vips.
Editor Notes:
To read full details and enter the competition visit (launched at Internet World London) http://www.modera.com/campaign/trackday/. The first draw is on the 15 June 2008 and the second raw is on 15 August 2008
Modera recently released its new Modera.com website and rebrand and its dedicated Modera.hk website for the Hong Kong http://www.modera.hk territories, to further expand its success in the Asian region as it continues to thrive throughout Europe.
The media spokesperson for Modera is Siim Vips, CEO.
Click on Media Alerts to register http://www.elementalcomms.co.uk/register to receive forthcoming news from Elemental Communications and its clients.
This press release is available in PDF, plain text and Word formats. Photographs are available of the Modera team.
About Modera:
Modera is a global software company specialising in content management development that constantly challenges the technology and clients environments to deliver superior solutions that meet expectations. Modera operates in over 20 countries including the UK, Spain, Hong Kong and the USA, with headquarters in Estonia.
Backed by 24-hour support and a vast partner network, Modera takes the hassle out of content management with its cost-effective webmaster, intranet and extranet product line. Whether taken separately or together as a complete interconnected product, these tools are fast, secure, simple-to-use modular in design making them highly flexible and are competitively priced.
Simple to install and maintain, Modera's scalable service caters for SMEs through to large organisations that require products to service bespoke individual needs. Its clients include established and well-known brands such as Citizen Watches, Group 4 Securicor (G4S) Hong Kong Express Airline, Jamiroquai.com, Nissan and The Mama Group Plc.
Tim Gibbon, Director
Mobile: +44 (0) 7930 375 663
Telephone: +44 (0) 870 745 9292
Fax: +44 (0) 870 745 9293
Website: http://www.elementalcomms.co.uk
Address: Second Floor, 145 -157 St John Street, London, EC1V 4PY, England, UK
###