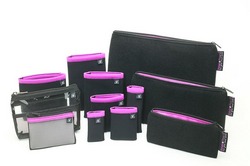 Inner Peace for your Inner Purse™
Houston, TX (PRWEB) June 9, 2008
This is not your ordinary purse organizer! The Inner Peace for your Inner Purse™ Modular Purse Organizer has been called the easiest, most effective handbag organizer in the world. According to the National Association of Professional Organizers, founded in 1985, people everywhere have been hiring professionals to help them un-clutter their lives for years. Now there is a simple, modular system to organize any handbag, tote, backpack, travel carry-on, baby bag or briefcase just the way you want to.
When Jaelin Proffit was digging in her purse for her lipstick that seemed to have disappeared into what many women refer to as the dark hole of our inner purse, in a flash of inspiration this pharmacist seeking to change her life and make the world a better, more organized place, invented Inner Peace for your Inner Purse™. With retail prices ranging from $1.89 - $5.59 for individual components to $19.97 for the Essential (starter) Set and only $24.97 for the Essential Boutique Set (great for gift giving) Inner Peace for Your Inner Purse offers:

Everything in your Inner Purse is in plain sight for easy access. Chic accent trim makes items easy to find.
Specialty sized, re-arrangeable pockets to customize all your Inner Purse needs -from the tiniest to the largest of bags
Inner Peace™ moves easily from purse to purse, bag to bag!
Soft, durable fabric for delicate Inner Purse items
Available as a package or a-la-cart!
Jaelin's company, Jaelin Int'l Inc., has one simple mission: bring an element of peace into the lives of people everywhere through organization and simplicity. In 2005, after reading the books The One Minute Millionaire and Cracking the Millionaire Code, Jaelin Proffit was inspired by the idea that the way to personal prosperity was by adding value to the lives of others.
Living in Galveston, Texas, at the time and taking the ferry to her job across Galveston Bay she began to speak words of affirmation and asking what she could bring to the world. Minutes later the whole idea of the modular organizer system flooded into her brain like a fully formed Mozart symphony! "Inner Peace for your Inner Purse is the answer to what I can bring into people's lives that will make a positive difference," Proffit explains.
Jaelin began the journey to bring this inspired idea out into the world. After several years of research and development, Inner Peace for Your Inner Purse™ is now a reality and hitting retail shelves across the country rave reviews.
Inner Peace for your Inner Purse™ will be offered to the trade at the F!NDS Temporary Show, Fashion Center Dallas, June 20-23, 2008.
Here are Five Hot Tips for Keeping Your Handbags Cool and Organized This Summer
by Jaelin Proffit, Owner of Inner Peace for your Inner Purse
Keeping your purse light and well organized decreases stress on a day to day basis. With summer here, it's the perfect time to re-evaluate that messy, heavy load we've been carrying around all winter. Travel light and have fun!
1. Take off the extra weight. Slim down your purse this summer by removing all the stuff you carry "just in case". It will do your shoulders, back and mood some good. Come on, you don't really need to carry around 5 pens, 3 checkbooks, 7 shades of gloss and the receipts from everything you've purchased in the last month, do you?
2. Streamline your wallet and debt by carrying only 1 credit card. If you're traveling and plan to use a credit card, remember that many credit card companies will block a sales transaction when there is unusual activity. So don't forget to notify your credit card company of your travel plans in advance so your transactions go smoothly.
3. Do you really need an entire makeup kit? Go natural and just carry 2 or 3 essential like an eye refresher, sunscreen, and one (yes I said one) lipstick. Having a light load can take years off your face. Use the season change to throw away old, contaminated cosmetics. Buy fresh---and not so much.
4. Plan to bring a book on your summer vacation? Give your eyes as well as your shoulders a break downloading an audio book to your MP3 player. This is a great way for those who get motion sickness easily while traveling (like me) to get that book in they've been waiting for time to read. And how about leaving the self-help at home and lightening up on your inner self by reading some juicy fiction or laugh out loud comedy? Have fun!
5. Flying? Travel easily through the summer crowds by checking in all your luggage except essentials. Breeze through the airports by carrying a backpack purse packed with your essentials (makeup and face freshener for that dry in-flight air, travel-size toiletries in a zip lock bag, toothbrush, etc. - and don't forget an extra pair of panties and your swimsuit!)
To see how your Inner Purse can stay organized all year long visit http://www.innerpurse.com
About Jaelin International, Inc.
Jaelin Int'l Inc. Founder and CEO, Jaelin Proffit, is the designer of "Inner Peace for your Inner Purse™" Modular Handbag Organizer. She has been a Registered Pharmacist for over 2 decades, is a certified yoga instructor and is active in fostering a more holistic vision of health and living. Jaelin is dedicated to inspiring and helping others embrace peace and prosperity through simplicity and organization.
# # #