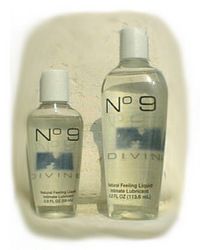 In a prior laboratory study by the distinguished team at the National Cancer Institute, Divine 9 was shown to inhibit infection from cervical cancer-causing viruses
Orlando, FL (PRWEB) June 11, 2008
Divine Corporation announced today new research results from the National Cancer Institute's (NCI) Laboratory of Cellular Oncology that further indicates Divine 9 is an effective inhibitor of cancer-causing viruses [1]. In this latest study, the NCI researchers introduced a form of human papilloma virus (HPV) to the vaginal tract of female mice both with and without the use of Divine 9. The study showed that while infection was almost assured in unprotected mice, Divine 9 effectively inhibited infection in those mice first treated with Divine's carrageenan-rich formula.
In order to conduct the study, the Laboratory of Cellular Oncology first produced a derivative of the cervical cancer-causing HPV16 virus that has the same infection properties but replaces the actual HPV16 virus with a marker gene. By selectively applying the marker-enhanced virus to the vaginal tracts of mice, the research team could analyze the amount of infection and determine what products enhanced, inhibited or had no effect on infection rates. The team found that the widely used spermicide, nonoxynol-9, increased susceptibility to infection. In contrast, Divine 9 personal lubricant prevented detectable infection.
"In a prior laboratory study by the distinguished team at the National Cancer Institute, Divine 9 was shown to inhibit infection from cervical cancer-causing viruses," said Stephanie Fresonke, President of Divine Corporation. "Now with these new studies, Divine 9 again has shown its infection blocking capabilities. Our customers can enjoy the wonderfully intimacy enhancing characteristics of Divine personal lubricants while also knowing they are potentially protecting themselves from cervical cancer."
[1] Roberts JN, Buck CB, Thompson CD, Kines R, Bernardo M, Choyke PL, Lowy DR, Schiller JT, Genital transmission of HPV in a Mouse Model is Potentiated by Nonoxynol-9 and Inhibited by Carrageenan. Nature Medicine, Volume 13, Number 7, (July 2007) cervical cancer_title_Nature Medicine
About Divine Corporation
Divine Corporation is dedicated to making intimate encounters as safe and enjoyable as they possibly can be by creating a line of personal lubricants that both protect and enhance intimate encounters. Intensive research has led to products formulated with natural ingredients such as carrageenan that are shown to block life-altering viruses in independent laboratory studies. In addition, both unscented Divine 9 and vanilla-scented Divine 8 are known for their exotic, slippery feel that dries clean, never sticky. Look for Divine personal lubricants in health food stores, on-line drugstores such as Drugstore.com, and other discriminating websites.
FOR FURTHER INFORMATION, PLEASE CONTACT:
Debbie Gallaher, +1.407.468.4228, debbie(at)divinetimes.com
###