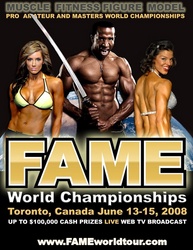 We want people to understand that being Body-Proud is important for happy, healthy living and positive personal growth
Toronto, Ontario Canada (PRWEB) June 10, 2008
The World Natural Sports Organization (WNSO) is bringing the 2008 FAME World Championships and Pro Showdown to the John Bassett Theatre, Metro Toronto Convention Centre on June 13-15.
The three day event will feature Amateur and Pro competitions for athletes who will travel to Toronto from around the world to compete in this extraordinary event. Over the weekend, competitions will be held for natural men's and women's Fitness, Bodybuilding, Muscle Model, Fitness Model Search, Figure, Swimsuit Model and Bikini Model Search with special events for couples and Seniors.
According to FAME presidents, Jeffrey Kippel and Mindy Blackstien, FAME's new mandate is to encourage everyone to join the "Body-Proud Phenomena" and take charge of their physiques, thoughts and energy.
"We want people to understand that being Body-Proud is important for happy, healthy living and positive personal growth," Kippel said.
Along with the competitions, the public is invited to a free Expo and Marketplace and "Fitness Lifestyle " Speaker Symposium. The event will feature presentations from renowned fitness industry personalities such as Laura Creavalle, Peter Twist and Dr. Melissa Hershberg. In addition, there will be presentations from Aradia Fitness and a variety of world class natural Pro Athletes and top fitness industry models. The expo will also feature some of the leading television, film, and magazine casting directors conducting onsite casting calls, photo shoots, and interviews. It will truly be a unique opportunity for the public to get up close and personal with the top professionals in the Fitness and Health industry.
The FAME World Championships and Pro Showdown takes place every two years and according the Kippel and Blackstien, this year's event will be the largest one in FAME's 11 year-history.
For more information, full event schedules, and ticket details please visit http://www.FAMEworldtour.com
Carly Donovan
PR & Media Relations
FAME World Tour
416 835-3263
877 WOW FAME
http://www.FAMEworldtour.com
cdonovan @ fameworldtour.com
###