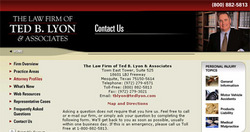 If I could go back to September the 19th of 2006
Mesquite, TX (PRWEB) June 10, 2008
Ted B. Lyon & Associates near Dallas, personal injury attorneys, announce the 11th-largest national jury award of 2008. In a personal injury case of negligence and gross negligence against Amerco's U-Haul International, Inc., the court ruled in favor of the firm's client Talmadge Waldrip for $84.25 million, including $63 million in punitive damages.
Talmadge Waldrip, still confined to his bed twenty hours per day, suffered a crushed pelvis in the 2006 accident, which left him unable to walk and without bowel control. His family said they would trade the award for full restoration of Waldrip's health. "If I could go back to September the 19th of 2006," said Waldrip, "I would be happy to go right on from there and not have this situation."
After the truck he'd rented rolled over him, crushed his bladder, and broke several bones, Waldrip sued Amerco's U-Haul. In his argument, attorney Ted Lyon pointed out the truck's worn-down brake pads and gears and expired inspection sticker. "The truck's parking brake did not work at all," Texas personal injury attorney Lyon explained. "He stepped out of the truck and it rolled right over him." U-Haul neglected the truck's maintenance and thus caused Waldrip's accident.
"When you rent a truck from them, it may not have been checked mechanically, and may have been rented out to 50 people and driven 3,000 miles," Lyon said, explaining that the case should provide a red flag to the public regarding U-Haul's maintenance issues.
Lyon said that Waldrip alleged the truck, showing 234,000 on the mileage indicator, was insufficiently maintained, and that the company's record for post-rental service on its trucks is poor. "You can drive a truck from Dallas to Michigan, take it to a U-Haul center and they won't do any maintenance on it," he said.
Previous to Waldrip, six renters had similar problems with the truck, said Lyon. "U-Haul was
negligent and grossly negligent in leasing out a truck like this."
Texas personal injury lawyer services at Ted B. Lyon & Associates extend to medical malpractice, motor vehicle accidents, wrongful death, pharmaceutical litigation, product liability, toxic torts, and environmental law. Extending expertise to those injured due to corporate negligence, they pursue compensation for clients, as was done for Talmadge Waldrip.
The Dallas personal injury attorneys of this firm battle corporate America, acting as spokespersons for many injured by chemical companies, corporations, and others. In addition to the Waldrip win, the firm's websiteTedLyon.com catalogs other successes. These include the largest wrongful death verdict in the history of Texas, and cumulative verdicts and settlements that total more than $500 million.
For more information about The Law Firm of Ted B. Lyon & Associates, visit tedlyon.com.
About The Law Firm of Ted B. Lyon & Associates:
Ted B. Lyon, Jr. has been helping people for more than 25 years as a former police officer, a member of the Texas House of Representatives and Senate, and as a Texas personal injury lawyer. His firm's website TedLyon.com provides a comprehensive view of the representation available and the types of cases taken, including medical malpractice, motor vehicle accidents, personal injury, wrongful death, pharmaceutical litigation, products liability, toxic torts, and environmental law.
###