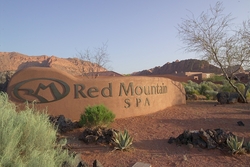 St. George, UT (PRWEB) June 10, 2008
This summer, wellness leader Red Mountain Spa commemorates a decade in the desert with 10th Anniversary Spa Savings packages and rates starting at $229 per person and luxury villas from $299, based on double occupancy. Anniversary party favors include a select spa menu with offerings starting at $19 and special events. Additionally, Fourth of July patriotism rings true throughout the red rock canyons with star spangled pursuits.
Available July through September 16, the "Summer Super Deal" invites guests to kick off their heels and embark on a soulful summer adventure to take advantage of the 10th Anniversary Spa Savings. Thrill-seekers spend three-days/two-nights embarking to new altitudes and optimistic attitudes in southwest Utah's Mojave Desert. Sagestone Spa & Salon allures avid spa-goers and neophytes alike with an Anniversary "Summer Spa Value Menu" with discounts up to 40 percent on treatments such as the 50-minute Sagestone Swedish Massage priced at $69 (limit one per guest, per day). For details on the "Spa Value Menu," visit Anniversary Spa Value Menu.
The celebration continues with exclusive Anniversary core offerings with top ten appeal such as Ten Toe Reflexology (a holistic understanding of pressure points on the hands and feet that correspond to a person's own healing systems), Decade Chili Cook-off (guests compete for the best chili bragging rights) and The Whole 10 Yards (a discussion on healthcare from detoxifying the body to harmonizing the hormones). The following offerings are also included with the 10th Anniversary "Summer Super Deal":

Stylish Deluxe Accommodations
Healthy Gourmet Cuisine - Three Meals Daily
Complimentary Bike Rental
Complimentary In-Room High-Speed Internet Service
Daily Guided Morning Hikes, Awareness Walks & Tai Chi on the Rocks
Unlimited Fitness Classes including Yoga, Pilates, Chi Ball, Boot Camp & more
Cooking Demonstrations & Nutrition Classes
Healthy Living Classes & Events
Full Use of Resort Facilities including Red Cliffs & Desert Breeze Indoor & Seasonal Outdoor Pools, Whirlpools, Walking Trails, Strength Training & Cybex Cardio Equipment
Observe Independence Day at Red Mountain Spa in a whole new way  with red rock terrain, white-hot deals and Bluezzz. Guests are invited to join in the following special guest performances and liberty-inspired activities:
Make Freedom Rings
Fashionistas will join expert jewelry-maker, Lisa Wood, in an exclusive Fourth of July class where guests will design and create a ring to symbolize an intention based on their spirit of freedom and desire to free themselves of old emotional, spiritual, mental or physical habits.
Red, White & Bluezzz
Visitors will enjoy the patriotic sounds of mixed blues and jazz with a special performance by Josh Warburton, commemorating the day of freedom.
Red Mountain Star Spangled Stare
Far from city lights, star power in nearby city of Kayenta is spectacular. Over the red sand, participants will view the Cosmos including stars, planets, satellites, constellations and experience the night sky in a whole new dimension. This experience will leave visitors starstruck! ($50)
The "spa"tacular soirée proceeds with additional 10th Anniversary activities designed to reconnect guests with their mind, body and spirit. The 10 Waypoint Geocache Race supports teamwork as guests get outdoors and get moving during this specialized race utilizing a global positioning systems (GPS) unit. Teams will discover ten caches along the cardio/strength circuit route as they race to win the Red Mountain Anniversary Prize. Another peak offering is Red Mountain's Decathlon Hike designed to challenge guests' in ten aspects: speed, strength, agility, skill, flexibility, endurance, technique, passion, personality and Red Mountain spirit. Red Mountain Spa also presents indulgent anniversary options, including 10 Minute "Mini" Massages, Ten to Zen, Morning Meditation Hike and a 10 Year Toast.
To book Red Mountain's 10th Anniversary "Summer Super Deal" package or to learn more about the special offerings programs, visit Red Mountain Spa (book on-line and save five percent) or call toll-free 877.246.HIKE or direct 435.673.4905.
Red Mountain Spa, nestled in the red rock bluffs of Snow Canyon State Park in Southwest Utah and a picturesque two-hour drive from Las Vegas, is an extraordinary fitness and health destination featuring outdoor adventure, luxurious pampering and one of the most extensive hiking programs in the Southwest. Highlights include the Sagestone Spa & Salon offering more than 50 treatments and services, many incorporating indigenous ingredients. Specializing in outdoor adventure fitness programs for all levels, Red Mountain Spa has been named as one of the World's Greatest Hotels, Resorts + Spas by Travel + Leisure and one of the Top Spas by Condé Nast Traveler, Allure magazine and Forbes.com; named a Top Five Destination Spa by Women's Health magazine…as seen on NBC's TODAY Show; and designated a Top Detox Spa by USA Today, About.com and Healing Lifestyles & Spas. Red Mountain Spa is also the recipient of Six Luxury SpaFinder Reader's Choice Awards and voted Top Destination Spa and Top Spa for Traveling Solo in Spa Magazine's Silver Sage Readers' Choice Awards 2007. Celebrating its 10th anniversary and ownership by Phoenix-based Pivotal Group, Red Mountain is located at 1275 E. Red Mountain Circle, St. George, Utah 84738. For reservations call toll-free:877.246.HIKE, direct: 435.673.4905, or visit the Web site, RedMountainSpa.com.
###