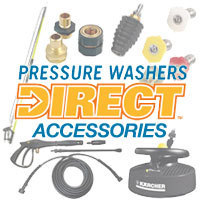 Most brick and mortar stores don't dedicate nearly enough shelf space to pressure washer accessories
Bolingbroo, IL (PRWEB) June 10, 2008
PressureWashersDirect.com - an online superstore exclusively dedicated to pressure washer - is broadening its selection of accessories.
"Most brick and mortar stores don't dedicate nearly enough shelf space to pressure washer accessories," said Jon Hoch, founder and CEO of Power Equipment Direct, the parent company of PressureWashersDirect.com.
Being an online merchant instead, PressureWashersDirect.com has unlimited shelf space. The online superstore carries a complete selection of power washer accessories, including the following hard-to-find items:

High-Pressure Spray Kits
Spray Tips
Turbo Nozzles
Water Brooms
Power Equipment Direct operates four niche online superstores. In addition to PressureWashersDirect.com, the Bolingbrook, IL-based company operates AirCompressorsDirect.com, SnowBlowersDirect.com and ElectricGeneratorsDirect.com.
###