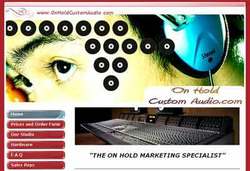 We are striving to help businesses achieve new sales goals by offering professional recordings at the best prices in the industry
Hammond, LA (PRWEB) June 10, 2008
On Hold Custom Audio is making custom music on hold systems more affordable by waiving their traditional $300 set up fee for the summer. Despite waiving this fee, they will still retain their no contract, no equipment purchase business model which instead charges a single, low monthly fee. They will also continue to provide professional scriptwriting and talent as part of their service. The goal is to allow small business to take advantage of this beneficial service.
"We are striving to help businesses achieve new sales goals by offering professional recordings at the best prices in the industry," says Owner and President Wesley Valverde. A professional musician and recording engineer, Valverde believes that custom on hold message systems are invaluable to businesses. He cites studies that state companies with custom music on hold systems see as much as a 40% increase of callers waiting through the hold period. Studies also state that approximately 30% of callers who do not wait through the hold period never call back.
On Hold Custom Audio wants to make their on hold message systems an easy, affordable option for all businesses. Valverde states "No risk… no hardware to buy… no script to write… We built our business with our customers in mind. How easy is that?" Although many companies require the purchase of costly music on hold equipment, On Hold Custom Audio does not. Equipment rental is included in the monthly fee, which is determined by the number of unique messages are recorded each year. Normally, a $250 equipment deposit is required, as is a $300 set up fee to install new music on hold systems. For the summer, however, only the equipment deposit will be expected from new customers.
New customers will have scripts written specifically for their business. These will then be produced by the On Hold staff using professional talent and equipment, such as ProTools software. Callers will hear their on hold message and carefully selected music until their call is answered. Valverde maintains that this style of on hold message is preferred by callers even over local radio.
On Hold Custom Audio can be reached via their website onholdcustomaudio.com.
About On Hold Custom Audio
New Orleans based On Hold Custom Audio provides customized hold message content to businesses across the United States. Owned by professional music and recording engineer Wesley Valverde, they provide customers with custom on hold marketing materials without the need for expensive equipment purchases or contracts. An Authorized Dealer for Premier Technologies, On Hold Custom Audio includes hardware in their low monthly fees.
###