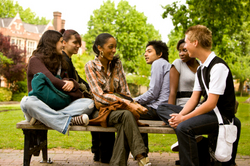 San Bernardino, California (Vocus) June 10, 2008
This is the time of year when many high school graduates are beginning preparations for their first year at college. In addition to choosing classes and housing, future students must also consider their options for health insurance. Many colleges and universities require their students to have a health insurance plan that meets minimum requirements set by the school. Most schools also offer their own student health insurance plan as an option that the student must opt out of by showing proof of comparable coverage.
Two years ago, HealthInsuranceFinders.com introduced Student Health Insurance into its line of medical insurance resource offerings on its site. The resources were given an overhaul in response to common questions the site has received over the past couple of years. The student health insurance resources are designed to educate the students about their options and help them make informed decisions, as perhaps their first act as a college-going adult. Parents will also find the information useful, especially since they are likely to be footing the bill for whatever option the student chooses.
"As one of the most visited online health insurance resources on the net, we receive many inquiries from students across the country looking for health insurance. Many of the questions that we get asked regularly are answered in our updated step-by-step student health insurance guide. This guide will walk you through the process of understanding all of your student health plan options and provide you with the knowledge necessary to make this important decision. Our Student Health Insurance Directory will help you find a professional insurance agent in your area to provide you with quotes and answer any other questions you might have," said Todd Faucher, Vice President of AllHealth Insurance Services, the company that operates the site.
The Student Health section is a comprehensive approach to this type of insurance, offering guidance and connecting visitors with insurance providers in their state through the site's online marketplace. The section is built around a step-by-step guide aimed at helping students understand the health insurance requirements at their college and then evaluating the options that meet those requirements. By following the guide, students will understand which option will give them the best coverage for the lowest price, whether that be keeping their current insurance, accepting their college's offering or going with another provider.
Visit the Student Health Insurance section at http://www.healthinsurancefinders.com/student/
About HealthInsuranceFinders.com
HealthInsuranceFinders.com is a medical insurance hub dedicated to providing resources that help consumers find and make educated choices about health insurance. The site offers an impressive library of resources as well as a marketplace to help connect consumers with the best and most affordable health insurance plans in their state.
For more information, please visit: http://www.healthinsurancefinders.com
Contact:
Todd Faucher
Vice President, AllHealth Insurance Services, Inc.
1-800-258-0307
###