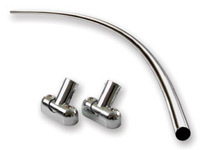 We also keep costs down with a lightweight casting that involves no moving parts.
Thonotosassa, FL (Vocus) June 10, 2008
Curved shower curtain rods are a staple in hotel guest bathrooms and privately-owned residences, prized for their functionality and aesthetic appeal. Thanks to a patented design by Harney Hardware owner Preston Copenhaver and Acuity mechanical designer Bob Gunning, the rods are now lighter, stronger and more affordable.
"We examined competing products and believe we have significantly improved them in many aspects," says Copenhaver.
That meant decreasing weight as well as adding strength and stability while simplifying design and installation.
Copenhaver and Gunning devised a swiveling bracket system attached to an easily adjustable curved shower rod. These features allow for simple product installation while keeping manufacturing and shipping costs low by incorporating strong hollow brackets.
"One of the obvious differences between our design and others is the ability for an installer to mount our rod without disassembling it," says Gunning. "We also keep costs down with a lightweight casting that involves no moving parts."
The United States patent for the elliptical shower rod and bracket apparatus was accepted upon first submission and was awarded May 29, 2007. Within six months, the rod became Harney Hardware's best-selling product. The curved shower curtain rod also adds a great deal of space to the shower area, providing the feeling that one is in a grand bathroom found in the world's finest hotels.
"Both buyer and seller benefit from the patented design," Copenhaver says. "I believe, and more importantly so do our clients, that it's truly a superior curved shower rod.
The elliptical shower rod and bracket apparatus is available through Harney Hardware's website at http://www.harneyhardware.com. Harney Hardware has been importing and distributing quality residential bathroom accessories, hotel bathroom accessories, and residential door hardware for more than 25 years. The company offers same-day shipping throughout the continental United States.
###