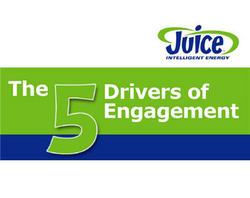 The Five Drivers of Engagement
Guelph, Ontario, Canada (PRWEB) June 10, 2008
Business leaders understand that engagement reduces turnover, increases productivity and contributes to corporate goals. But what are the essential factors that create employee engagement? The new podcast from management consulting firm Juice Inc. provides answers.
In The Five Drivers of Employee Engagement, one of Juice's customers interviews Brady Wilson, a founding partner of Juice Inc. Michael Ebaugh, the Corporate Director of Learning and Development at Botsford Hospital in Farmington Hills, Michigan, asks Wilson what the five drivers of engagement are, how Juice discovered them, and what managers can do to create engagement in their employees.
Juice spent several years looking at research from The Gallup Organization, Towers Perrin and other leading organizations and discovered that what matters most to employees is that their core emotional needs are being met. Juice also found that paired with each driver is a state of being that, when met, engages and energizes employees and leads to increased productivity and retention.
Juice defines the five drivers with the following statements:
"I Fit" -- Belonging
"I'm Clear" -- Security
"I'm Supported" -- Freedom
"I'm Valued" -- Significance
"I'm Inspired" -- Purpose
"An employee's personal energy level corresponds to their productivity and performance," Wilson says. "When energy levels are up, engagement is high. It's the job of managers to communicate with their employees in a way that releases their energy so that employees feel content and productive."
To hear the podcast, please visit http://www.juiceinc.ca/podcast.htm.
To download the associated white paper, "The Five Drivers of Engagement," please visit http://www.juiceinc.ca/whitepaper.htm.
About Juice Inc.:
Since 1998, Juice Inc. has been working with organizations to create better business outcomes and improve performance by releasing Intelligent Energy. Juice Inc. has seen a significant return on investment for its clients, including Amex, AstraZeneca Canada, Botsford Hospital, CIBC, Co-operators Insurance, Kellogg, Canadian Tire Financial Services, Cooper-Standard, Huron Perth Health Alliance, Kraft Foods, Linamar Manufacturing, Manulife Financial, Maritz, NestlePurina, Raytheon and UNICEF.
Media Contact:
Crista Renner
519-822-5479, ext.222
crenner(at)juiceinc.com
This press release was distributed through eMediawire by Human Resources Marketer (HR Marketer: http://www.HRmarketer.com) on behalf of the company
listed above.
###