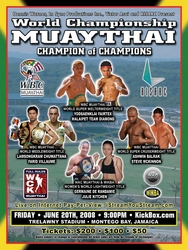 I always train very hard 6 to 8 weeks before a fight and I like to fight only the strongest woman
Los Angeles, CA (PRWEB) June 10, 2008
Champion of Champions fight to bring the best of Muay Thai to fans around the globe, RISARC, Dennis Warner and InSync Productions in association with IStreamYouStream.com, will feature UK's Thai Boxing Champion, Julie Kitchen, in an all-out girl's brawl against WIKBA World Muay Thai Champion and No. 1 Female Muay Thai Fighter, Germaine de Randamie of Holland, for a double-header title - IKKC Muay Thai Women's World Lightweight and WIKBA World Muay Thai Championship Titles.
The International Muay Thai Champion of Champions Fight Night will feature Kitchen vs. Randamie and top fighters Yodsaenklai Fairtex vs. Malaipet Team Diamond among in this 9-bout Championship Fight Card, live and on demand from Jamaica's prestigious Trelawny Stadium Friday, June 20, 2008 at 10p.m. EST.
Hailing from Cornwall, UK, Julie Kitchen, 5'10"/141lbs, has only been training on Muay Thai for 3 years and is a mother of twins. She has an impressive fight record of 28 fights, with 22 wins and 6 losses against some of the toughest European fighters.
"Germaine is the toughest opponent for anyone, full stop, everyone male or female including myself rate her as their number one female fighter. When I beat her they will have to say the same about me, won't they?" said Kitchen in a recent interview with Rogue Magazine.
Holland's Germaine de Randamie, 5'7"/140lbs, has made her first fight debut at 16 years old against Lesly van Es from Matauri in Amsterdam on May, 2000. Her burst into the fight scene notched up some impressive title wins such as the WPKL and WIKBA World Championships and is currently undefeated by way of 37 fights, having 37 wins, 14 ko's.
"I always train very hard 6 to 8 weeks before a fight and I like to fight only the strongest woman" says Randamie. "A lot of people are interested in this matchup, and they know this fight will be extremely intense from the start. But I didn't take this fight to lose, I expect to win and win by knockout."
Show and Ticketing Information:
What: The Muay Thai Champion of Champions Fight Night
When: 20 June 2008, Friday (from 10:00pm EST onwards)
Where: Montego Bay, Jamaica - Trelawny Stadium
Online Pay-Per-View and On Demand Now On Sale at http://www.IStreamYouStream.com for $14.95! Advance purchase price ends June 16, 2008. Regular $24.95.
Tickets are now on sale at http://www.istreamyoustream.com
Ticketing Hotline: 800-953-3020
Pay-Per-View / On Demand Website: http://www.istreamyoustream.com/muaythai
VIP packages available - Please Contact sstephenson @ risarconline.com
Additional information on "Muay Thai Champion of Champions Fight Night" may be found at:

Pre-Event Phone Interview Opportunities:
Media partners will be pleased to know that phone lines for the MuayThai Champion of Champions Fight Night are open for interview opportunities. For information and interviews contact: Debra Burley or Monica Busby at 310-860-7735.
As limited interview slots are available, please call us early to avoid any disappointment.
About IStreamYouStream.com: IStreamYouStream.com is a dedicated entertainment forum that delivers relevant international content to the global masses by streaming LIVE videos of various events while exposing the viewers to different people, cultures and insights.
About RISARC: RISARC was established in 1990 as a Technology and Healthcare Consulting Firm offering an all-inclusive array of consulting services, system modules, and software expanded to provide solutions by merging industry experience with cutting-edge technology.
###