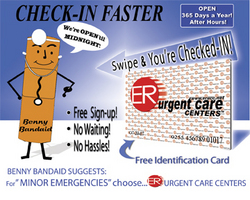 We are very proud to join Dr. Ybarra in this joint venture. His reputation in healthcare is exceptional and he will add a great deal of experience to the ERUC organization. The Southern Texas region is in desperate need of urgent care facilities with its significant shortage of emergency rooms
North Miami Beach, FL (PRWEB) June 10, 2008
ER Urgent Care Centers (Pink Sheets: ERUC) ER Urgent Care is proud to announce it has signed with Richard Joe Ybarra MD of South Padre Island Texas to open the first ERUC in Southern Texas. Dr. Ybarra, a prominent south Texas physician since 1984, will own and operate the first of many ER Urgent Care Centers. He will also be an integral part of the expansion project set for this area. Dr. Ybarra is board certified in Emergency room medicine, Family practice, Sports medicine with specialties in trauma, cardiac and pediatric life support.
A graduate of Baylor University, Dr. Ybarra has spent all of his life in medicine. He has also been Medical Director of Valley Regional Hospital, Angleton Danbury Hospital, Harlingen Medical Center and University of Texas Brownsville EMT. Dr. Ybarra has also owned his own family practice for over seven years.
"We are very proud to join Dr. Ybarra in this joint venture. His reputation in healthcare is exceptional and he will add a great deal of experience to the ERUC organization. The Southern Texas region is in desperate need of urgent care facilities with its significant shortage of emergency rooms," said Mark Solomon, ERUC President. "Leases have been signed and the build out will soon be complete. The grand opening will be announced very soon. We look forward to our shareholders visiting the new location."
For more information, visit our Web site at http://www.erucc.net or sign up for the corporate newsletter at http://www.erucc.net.
Distributed by: VADER CAPITAL, LLC Investor Relations Firm.
###