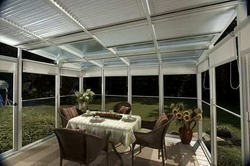 Our customers really enjoy the light-emitting roof for several reasons
Westport, CT (PRWEB) June 11, 2008
SunPorch Structures, Inc. announced today the arrival of their innovative 2-in-1 Skylight Shade option designed to fit inside their popular SunPorch brand sunroom. The new Skylight Shade allows more control over sunlight and heat by providing 3 shade positions including 1) full shade, 2) filtered shade or 3) completely open.
SunPorch sunrooms, established in 1974, has a light-emitting roof in addition to floor-to-ceiling windows. This combination allows for maximum light to enter the room to create a truly outdoor room experience. Each Skylight Shade covers a 3 foot square area mounted on the interior of the SunPorch allowing owners to control the amount of sunlight that enters the room by opening and closing each shade. "Our customers really enjoy the light-emitting roof for several reasons," comments Dean Schwartz, General Manager of SunPorch. "First, our customers do not want to darken adjacent rooms when they install their SunPorch on their deck or patio. Secondly, it's a sunroom, after all. And they want the sun to shine in!" Robin Quiles, Customer Services Manager adds, "The Skylight Shades reduce heat build-up and add shade, cooling the SunPorch by as much as 20 degrees within minutes. Our new 2-in-1 Skylight Shades allows our customers to completely block or just partially block the sun, all in one shade system." To promote the new 2-in-1 Skylight Shades, SunPorch is giving them away for free with all SunPorch sunrooms purchased before June 30th, 2008.
The new 2-in-1 Skylight Shade is the second improvement SunPorch has made in the last 12 months. In 2007, SunPorch released its new Easy-Slide window system as an upgrade to their QWIK Window System.
For over 34 years, SunPorch Structures has produced and sold innovative and award winning SunPorch sunrooms nationwide. Its' complete ready-to-assemble design mounts easily on an existing deck or patio without costly site prep making the SunPorch a remarkably affordable home addition.
For more information visit http://www.sunporch.com or contact Dean Schwartz at dean(at)sunporch.com or Robin Quiles at robin(at)sunporch.com.
###