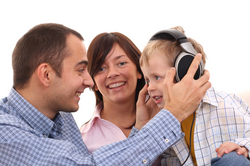 Bible listening is helping improve communication within our family
Albuquerque, NM (PRWEB) June 11, 2008
Free Audio Bibles Reach Close to Home
Neckties, collect calls and greeting cards - that's what most dads in America get for Father's Day gifts. But this year will be different for many fathers who attend church June 15. More than 37,000 Audio Bibles will be given out this Father's Day as part of a Bible listening campaign called You've Got The Time.
Nearly 250 churches in 41 states will participate in this ongoing effort designed to engage people and families in God's Word. By listening 28 minutes a day for 40 days, people and families can hear the entire New Testament. You've Got The Time is coordinated by Faith Comes By Hearing, the world's foremost Audio Bible ministry.
"Honoring our Heavenly Father on Father's Day is paramount," said Troy Carl, Faith Comes By Hearing's national director. "By giving away Audio Bibles this weekend, we also seek to honor and equip family leaders with relevant ways to get their loved ones involved in God's Word."
Research shows that 65 percent of self-identified Bible readers have never read the entire New Testament. Also, the National Study of Youth and Religion reports that less than one-third of all U.S. Protestant teenagers read the Bible at least once a week.
These alarming trends are not surprising to church and ministry leaders. Many agree that families don't make Bible engagement a priority.
"Most people are just too busy with other things, therefore they neglect the Bible," said a pastor from the Washington, D.C., area.
"People say they don't have the time to read the Bible anymore," echoed an Albuquerque, N.M., minister. "With everything people are inundated with these days, family, work and school; after all that, the day is over. But with You've Got The Time, there is no longer an excuse not to listen to the Bible."
In this campaign, church leaders distribute free Audio Drama New Testaments on MP3 discs to every man, woman and child in their congregation. They then challenge their congregations to listen through the New Testament. Churches receive offerings for language recordings and Faith Comes By Hearing overseas discipleship programs, focusing on bringing God's Word to those who have the least access, the poor and illiterate, who make up 50 percent of the world's population.
Carl said he would like to see families take time and listen through the entire New Testament because "God's Word can change lives. We've seen families come together when they begin listening to God's Word. We've also seen marriages healed and families restored."
According to national research organizations, the amount of time U.S. families spend together has decreased. Today's parents spend eleven fewer hours per week with their teenagers than they did two decades ago. In fact, only 60 percent of 15- to 16-year-olds regularly dine with their parents. Family vacations are also down nearly 30 percent.
"Most American dads desire to reverse these trends and see their families become stronger and closer," said Carl. "They want to be better men and better dads, and God's Word can help them accomplish these goals."
Rev. Dewey Johnson of Sandia Presbyterian Church in Albuquerque, N.M., said, "The You've Got The Time campaign caught on in our congregation beyond our wildest imagination. Nearly half our families listened through the entire New Testament."
"Bible listening is helping improve communication within our family," said an Ulster, Pa., pastor. "My family and I listen to the Audio Bible every day. Each of us then shares one thing we find interesting or inspiring about the passage we heard."
"When families listen to the Bible together, there is peace in the home. Parents say they treat each other and their kids better," stated an Albuquerque, N.M., pastor.
Parents almost universally reported that their kids were "totally glued" to the players during daily listening. One church-going father said his 4-year-old son sits still and listens, stating that the sound effects and multiple character voices added drama without distracting them from the Word.
"I have personally enjoyed listening with my wife - just listening, without taking notes or studying it deeply, but just hearing the Word," said another pastor. "It has refreshed and rejuvenated my soul."
"My wife and I found a big benefit to listening together in the car and then discussing," said a New Mexico pastor.
Many churches have started listening to their free Audio Bibles this year. In fact, more than 1,460 churches have participated in the You've Got The Time program in 2008.
Click here to find out how to get your congregation involved in this Audio Bible listening campaign.
Click here to download your own Audio Bible in MP3 format.
FAST FACTS

National statistics also show that children ages 8 to 18 spend about 6.5 hours per day in front of a screen - computer, TV or game screen. Reports show that sleeping is the only activity children spend more time on.
Currently, 34 percent (24 million) of American children live without their biological father.
Americans spend on average 100 hours per year commuting.
PULL QUOTE/TEXT BOX

The National Center for Educational Statistics reported that when fathers are involved in their children's education, the kids were more likely to get As, enjoy school, and participate in extracurricular activities.
EXTRA RESEARCH
A national family research group found that "children with involved, loving fathers are significantly more likely to do well in school, have healthy self-esteem, exhibit empathy and pro-social behavior, and avoid high-risk behaviors such as drug use, truancy, and criminal activity compared to children who have uninvolved fathers (U.S. Dept. of Health and Human Services, Administration for Children and Families Office of Family Assistance).
An increased amount of father-child involvement has proven to increase a child's social stability, educational achievement, and even their potential to have a solid marriage as an adult (U.S. National Center for Fathering).
###