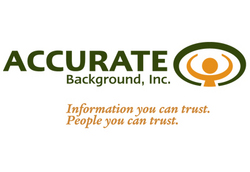 Accurate Background prides itself on offering a custom tailored solution developed with each client's specific requirements in mind. The integration solution eliminates redundancy offering a more efficient recruiter and applicant experience
Lake Forest, CA (PRWEB) June 11, 2008
Accurate Background Inc., a leader in the background screening industry announced completion of its Taleo 7.5 certification for their comprehensive web based solution. Certification of the current version of Taleo offers clients of Accurate Background and Taleo a pre-built solution which facilitates a quicker implementation process.
In addition to Accurate Background's existing Taleo integrations, the successful 7.5 certification allows clients access to advanced navigation tools. "Accurate Background prides itself on offering a custom tailored solution developed with each client's specific requirements in mind. The integration solution eliminates redundancy offering a more efficient recruiter and applicant experience," said Catherine Aldrich, executive vice president of Accurate Background.
As a Taleo Passport Certified Partner since 2004, Accurate Background's management and technical teams have worked very closely with Taleo and all of its mutual clients to deliver the most efficient services. Taleo 7.5 technology coupled with Accurate Background's newly enhanced digital fingerprinting collection solution brings a simple single source answer to Taleo and Accurate Background's mutual financial clients. Fingerprinting along with Taleo 7.5 integration adds a significant level of service to financial industry clients Additionally, Accurate Background's single sign-on access via the Taleo application and the expanded user management tools will improve time to hire, yield higher quality results and further leverage the joint development.
Accurate Background is technologically advanced in the background screening field and has two patents pending for unique industry processes. They continue to be at the forefront of Taleo's Passport Partner program. For the second year in a row, Accurate Background was ranked on Deloitte's 2007's Technology Fast 500, a ranking of the 500 fastest growing technology companies in North America. Accurate Background is also one of the top 13 background screening companies nationwide as peer-ranked in HRO Today's 2007 Bakers Dozen.
For more information about Accurate Background, Inc. and its products, call (800) 784-3911 or visit the Company's web site at http://www.accuratebackground.com .
This press release was distributed through eMediawire by Human Resources Marketer (HR Marketer: http://www.HRmarketer.com) on behalf of the company
listed above.
###