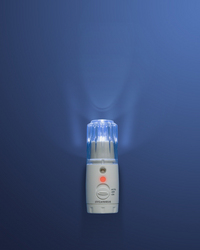 We are honored to receive the Home Safety Council's Commendation Award recognizing the innovation of the Power Failure Light as well as our corporate commitment to ensuring the health, safety and satisfaction of our customers
(Vocus) June 11, 2008
The Home Safety Council announced OSRAM SYLVANIA as a winner of the organization's 2008 Commendation Award for Product Innovation for its Power Failure Light. Product manufacturers from a variety of industries including home improvement and fire safety were among the five organizations that received the award in acknowledgment of their exceptional contributions to improving consumer home safety.
According to the Home Safety Council-commissioned study, The State of Home Safety in America™, home injuries cause an average of nearly 20,000 deaths and 21 million medical visits each year. The Home Safety Council's Commendation Award for Product Innovation was established in 2004 to recognize manufacturers for their contributions to reducing home injury risks by developing innovative products that aim to protect consumers from home injury.
"Manufacturers continue to be vital partners in the Home Safety Council's constant effort to reduce the toll of home injuries in America," said Home Safety Council President Meri-K Appy. "SYLVANIA represents a wide range of home safety product innovations and we commend the company's strong commitment to the health and safety of consumers."
About the Power Failure Light
The Power Failure light features three functions in one. It offers bright energy efficient LED light during power failures and automatically comes on when it senses a loss of power. It also functions as a night light with an automatic sensor and light indicator. For mobile usage, the Power Failure Light turns into a bright LED flashlight. The Power Failure Light never needs a bulb replacement, as it has built in rechargeable batteries. Whether in your kitchen, the bedroom, garage or hallway, the Power Failure Light is always charging while plugged in so you will never be left in the dark.
"We are honored to receive the Home Safety Council's Commendation Award recognizing the innovation of the Power Failure Light as well as our corporate commitment to ensuring the health, safety and satisfaction of our customers," said Constance Pineault, product marketing manager, OSRAM SYLVANIA. "Nothing brings more pride to our organization than knowing that the products we develop can help protect consumers with their safety features."
About the Salute to Home Safety Awards Dinner
The Home Safety Council's annual Salute to Home Safety Dinner took place on Thursday, June 5 at the J.W. Marriott in Washington, D.C. to honor those who have made outstanding contributions in the field of home safety. The event honored manufacturers, corporations and individuals for their safety innovations, consumer and employee home safety awareness programs and personal leadership in advancing the effort to reduce home-related injuries.
About OSRAM SYLVANIA:
OSRAM SYLVANIA is a leader in lighting solutions and specialty products that feature innovative design and energy saving technology. The company sells products for homes, businesses and vehicles primarily under the SYLVANIA brand name, and also under the OSRAM brand. Headquartered in Danvers, Mass., OSRAM SYLVANIA is the North American operation of OSRAM GmbH, a wholly owned subsidiary of Siemens AG. For more information, visit http://www.sylvania.com.
About Home Safety Council
The Home Safety Council (HSC) is the only national nonprofit organization solely dedicated to preventing home related injuries that result in nearly 20,000 deaths and 21 million medical visits on average each year. Through national programs, partnerships and the support of volunteers, HSC educates people of all ages to be safer in and around their homes. The Home Safety Council is a 501(c)(3) charitable organization located in Washington, DC.
###