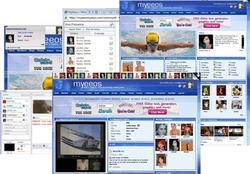 Virginia Beach Virginia (PRWEB) June 24, 2008
MYEEOS, The worlds new social network Web Site that gives users an alternative to MySpace and Facebook. Well over a year ago several resource site owners came together to form a social networking site where everyone could earn money not just the site itself.
Unlike MySpace and Facebook who keep all of the profits for themselves, MYEEOS wants to bring every user into the mix by eventually instituting a revenue sharing process for all web site owners and users. The owners of MYEEOS wanted to create something totally different from the mainstream social network sites like MySpace and Facebook. On My EEOS you will find more features and fewer restrictions, not only for users but for the owners of web sites wishing to utilize MYEEOS to maximize their profit potential. A totally new way of socializing with friends and family.
Will Ciccone President of MYEEOS Inc say this site has all of the features of MySpace, YouTube, Odeo, and Yahoo together in one Unique Community Site.
For additional information on MYEEOS, feel free to contact Will Ciccone at will @ myeeos.com which has been trademarked. The company is owned an operated by ordinary people who want everyone to have a choice.
Contact
Will Ciccone
MYEEOS.COM
Commentyou.com
Commentglitter.com
Commentdog.com
###