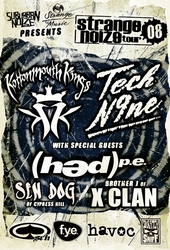 The first tour was a wild and crazy party -- the second one is gonna be a madhouse
Burbank, CA (PRWEB) June 11, 2008
Kottonmouth Kings & Tech N9ne Headline Strange Noize Tour, America's Biggest Underground Music Festival, Alongside (Hed)p.e, Sen Dog (Cypress Hill), X-Clan
The biggest and most notorious underground rock and hip-hop festival, Strange Noize, has returned as this summer's hottest ticket. This year's festival will be co-headlined by rip-hop hybrids, Kottonmouth Kings, and Kansas City's Tech N9ne, with support on all dates coming from (Hed)p.e., Sen Dog (Cypress Hill) and hip-hop legends X-Clan.
"We realized the extreme force that was created after last year's Strange Noize Tour," says Kottonmouth Kings frontman Daddy X. "It was the intensity and electricity that I haven't seen at a show in years. I don't think there were any fans leaving dry or unhappy. The second year will be a big middle finger to the detractors and haters in the industry that fail to recognize the magnitude of this underground movement."
"The first tour was a wild and crazy party -- the second one is gonna be a madhouse," says an excited Tech 9Ne. "I can't wait to get back on tour with my family. I hope we keep doing these because they're off the chain!"
The Strange Noize music festival debuted in 2007 and quickly became one of the summer's hottest tickets. The tour united two of America's biggest independent record labels - Suburban Noize and Strange Music - for one summer music festival that sold out over 40 dates across the country. The tour was a powerful message to the music industry that underground music could infiltrate the masses on a large scale with a sound too loud to be ignored any longer.
The Kottonmouth Kings are deep into the recording of their tenth studio album, "The Green Album" in Burbank, CA. The album is due for release in Fall 2008 through Suburban Noize Records.
Tech N9ne's newest release, "Killer" hits stores July 1, 2008 through Strange Music. The album is the highly-anticipated follow-up to "Everready (The Religion)", and features guest appearances from some of rap's most compelling artists including Ice Cube, Scarface, Kottonmouth Kings, Dirtball, Mista Fab and Paul Wall.
The innovators of G-punk, (Hed)pe are gearing up to tour in support of their first ever live album and DVD release, "The DIY Guys", which is set for release July 8, 2008 through Suburban Noize Records. The CD portion will contain three brand new studio recordings, a live performance captured at Hollywood's legendary Key Club, and previously unreleased songs.
After nearly two decades as co-emcee of the seminal rap group Cypress Hill, Sen Dog is poised to attack hip-hop's jugular with the release of his first solo album, "Diary Of A Mad Dog." The album marks an untethered opportunity for Sen Dog to again gnaw away at genre lines and conventionalism -- on his own terms.
Since making a triumphant comeback with the critically acclaimed "Return From Mecca", X-Clan has been hard at work on their upcoming studio album "Mainstream Outlaws", due for release in late 2008. One of the genre's most influential crews of all-time, X-Clan continues their legacy of conscious and uplifting hip-hop wisdom.
Exclusive Fan V.I.P packages will be made available through http://www.KottonmouthKings.com and http://www.TheRealTechN9ne.com. Packages will include tickets to the show, meet and greet with the artists before the show, limited edition t-shirt, posters and CDs. The tour will be sponsored by FYE, SRH Clothing and Havoc TV.
STRANGE NOIZE 2 TOUR DATES:
July 30 Tempe, AZ @ Marquee Theatre
July 31 Las Vegas, NV @ House of Blues
Aug 01 Anaheim, CA @ The Grove
Aug 02 San Franciscio, CA @ Grand Ballroom
Aug 04 Portland, OR @ Roseland Theatre
Aug 06 Seattle, WA @ Moore Theatre
Aug 07 Post Falls, ID @ Greyhound Park
Aug 08 Bozeman, MT @ Gallatin County Fairgrounds
Aug 09 Magna, UT @ The Great Salt Air
Aug 10 Denver, CO @ Fllmore
Aug 12 Fargo, ND @ Playmakers
Aug 13 St. Paul, MN @ Myth
Aug 14 Milwaukee, WI @ The Rave
Aug 15 Sauget, IL @ Pop's
Aug 16 Chicago, IL @ House of Blues
Aug 17 Chicago, IL @ House of Blues
Aug 19 New York, NY @ Grand Ballroom
Aug 20 Philadelphia, PA @ Electric Factory
Aug 21 Worcester, MA @ The Palladium
Aug 22 Baltimore, MD @ Rams Head Live
Aug 23 Cleveland, OH @ Agora Theater *** (Hed)p.e will not be performing
Aug 24 Detroit, MI @ The Fillmore
Aug 25 Columbus, OH @ The LC Pavilion
Aug 26 Grand Rapids, MI @ The Orbit Room
Aug 28 Sioux Falls, SD @ Ramkota Exhibit Hall
Aug 29 Tulsa, OK @ Cain's Ballroom
Aug 30 Bonner Springs, KS @ Capitol Federal Park
Aug 31 Wichita, KS @ Cotillion Ballroom
http://www.kottonmouthkings.com
http://www.suburbannoizerecords.com
###