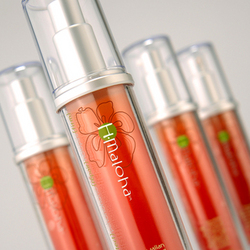 We knew Hollywood would embrace our Hawaiian bionutrient face serum because of its age defying qualities and the way it promotes younger looking skin
Holualoa, HI (PRWEB) June 11, 2008
The stars came out the night of June 1, 2008 for MTV's 17th Annual Movie Awards. Celebrities like Charlize Theron, Sarah Jessica Parker, Tom Cruise, Anne Hathaway, Megan Fox, Robert Downey Jr., Liv Tyler and Will Smith all attended the big gala. Before the red carpet event, celebrities pampered their skin with an age defying face serum originated from the island of Hawaii.
"We knew Hollywood would embrace our Hawaiian bionutrient face serum because of its age defying qualities and the way it promotes younger looking skin," said Scott Mounce, mainland marketing director for H. Maloha. "Due to the demands in Hollywood, celebrities are very conscious of their skin care and have discovered Hawaii has the absolute best natural and organic botanicals for their skin's health. H. Maloha not only creates healthier skin but actually changes how the skin ages which is unlike any other product on the market right now."
H. Maloha's breakthrough serum uses natural and organic ingredients in its serum, containing 29 botanicals, vitamins and antioxidants. The manufacturing of the serum is eco-friendly and it does not use animals in the testing of its product. The serum is 100% paraben free and contains no harsh chemicals, mineral oils, fragrances or other color additives that may harm the skin.
About H. Maloha
H. Maloha is a natural, environmentally green, Hawaiian skin care company. H. Maloha is dedicated to sharing the skin care secrets of Hawaii with the world. They are proud to protect the Hawaiian ecosystem with safe, natural manufacturing practices and also donate a portion of all proceeds to The National Children's Cancer Society. Their bionutrient face serum can be found exclusively in the best spas in the world. To learn more about H. Maloha visit http://www.hmaloha.com or call 1.877.462.5642.
###