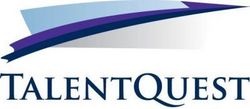 As with many of our offerings, the development of Talent Management Alignment was largely based on our clients' needs
Atlanta, GA (PRWEB) June 11, 2008
TalentQuest, a human capital management firm that blends the art of consulting with the science of technology, today introduced a new service designed to help organizations maximize their return on investments made in talent management software.
Under the new offering, Talent Management Alignment, the firm evaluates existing business processes, determines what investments are appropriate and necessary, plans and budgets the implementation process, and ensures that the initiative is owned and supported by the entire organization.
The new service reflects an emerging transformation in organizations where previously "siloed" functions and disparate processes and data are integrated through new applications and technology. It helps organizations make the most appropriate technology investment decisions for their current circumstances as well as their long-term HR growth plans. It also establishes an integrated, solid foundation to ensure successful implementation and organization-wide utilization.
"As with many of our offerings, the development of Talent Management Alignment was largely based on our clients' needs," said Dr. Frank Merritt, president of TalentQuest. "Far too many companies fail to fully capitalize on the benefits associated with automating and integrating talent management functions and processes."
Benefits include:

Provides the ability to rapidly respond to new business opportunities by deploying the right people with the right skills and experience into the right positions.
Lowers operational costs resulting from a streamlined approach.
Increases organizational performance by providing the ability to proactively and consistently measure individual performance.
Increases "bench strength" and reduces turnover.
Establishes foundations for sustainable growth.
Having consulted with countless organizations over the last 35 years, TalentQuest found that many fail to align their people, processes and technology before implementing a talent management solution, resulting in installation of a sub-optimized and often under-utilized system. Many lack clearly defined recruiting, performance management, training, development, and succession planning processes, which makes automation virtually impossible. Finally, newly established, rapidly growing and simply evolving organizations tend to make hasty decisions in selecting and implementing a talent management technology solution.
"There are numerous companies that offer talent management software implementation, but few provide the due diligence, objective advice and strategic counsel necessary to ensure successful adoption of the solution," Merritt concluded.
About TalentQuest
TalentQuest has been strengthening organizational performance and advancing leadership for more than 35 years by blending the art of consulting with the science of technology. Our consultants and organizational psychologists deliver fully integrated Human Capital Management consulting and Talent Management solutions that span the entire employee lifecycle - from talent selection to leadership succession - enabling organizations to maximize the value of their investment in people. TalentQuest is based in Atlanta, Ga., and has offices Seattle, Wash., and New York. To learn more, please visit http://www.TalentQuest.com.
Media contact:
Manda Hunt, TalentQuest
404.441.3455
manda(a)lenoxcommunications.com
This press release was distributed through eMediawire by Human Resources Marketer (HR Marketer: http://www.HRmarketer.com) on behalf of the company listed above.
###