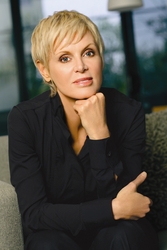 you have to be willing to do the work.
Venice, CA (PRWEB) June 12, 2008
Released in the midst of a media buzz currently promoting her rapidly expanding YAS Fitness Centers, Kimberly Fowler's new DVD, Overcoming Obstacles: The Secret to Success, offers people a deeper, more-personal glimpse of the entrepreneur spearheading the increasingly popular blend of yoga and cross-training. Filmed at the original YAS studio in Venice, California, Kimberly's inspiring and educational lecture serves as a guide for people needing to discover their own path to success.
As a spokesperson for Nike Yoga and mentor to several Olympic and professional athletes, Kimberly Fowler is in demand as an athlete who understands how to go beyond one's supposed limitations. Kimberly has overcome more than her share of obstacles - unbelievably surviving brain cancer and a near-fatal rock-climbing accident - and she's never one to take the easy way out. Overcoming Obstacles shows her courage-filled approach to tackling life's challenges head-on, and her burning desire to succeed, regardless of daunting odds or pessimistic naysayers, inspires people wishing to find their own success in life.
Kimberly really isn't one to preach. The tagline for her highly sought-after yogic instruction proclaims: "I'm Not Your Guru… You Are." In addition to encouraging self-empowerment, she bases a large part of her YAS philosophy on three simple ideas that have as much to do with perseverance as perspiration. To find successful results, Kimberly believes one must have focus, determination, and discipline. With that in mind, she declares the most important element in achieving success is "you have to be willing to do the work."
With a perfectly sculpted physique and a peaceful, confident aura, she effectively personifies success. In the 30-plus minute Overcoming Obstacles, five basic principles are outlined and discussed: Just Jump, Power Focus, Dig Deep, Uncomfortable Zone, and Self-Belief. Kimberly's philosophy behind "Just Jump" is her willingness to dive right in "and figure it out on the way down." "Power Focus" defines effective goal-setting, and "Dig Deep" encourages the audience to understand the importance of never giving up. Similarly, the "Uncomfortable Zone" aspect of the DVD relates her own experiences of "living in the uncomfortable zone." And "Self Belief" is just as it reads - unwavering belief in oneself. Audience members pose follow-up questions in the DVD's concluding Q&A session, with Kimberly sharing her tales of survival and triumph.
With words that speak to this triumph, she tells her audience, "Anything is possible if you set your mind to it." Though no one believed her when she first opened the tiny brick-walled studio by the beach, Kimberly has beaten the odds to build a hip, classy, and inviting place to experience yoga. YAS franchise locations are opening nationwide, and Kimberly's yoga style, Yoga for Athletes®, is the newest craze in the yoga-sport hybrid. Modest in success but not her happiness, Kimberly says, "I know I've found it, and I want it to spread and grow." Overcoming Obstacles is Kimberly Fowler's success story, and she hopes to inspire people trying to overcome their own obstacles.
Website: http://www.kimberlyfowler.com
About YAS:
YAS Fitness Centers are hip, cutting-edge, and inviting fitness centers that actively promote global health and wellness. YAS Fitness Centers represent a belief in a sustainable, healthy lifestyle and promote a positive influence in the lives of their members and the communities where they are located.
contact: Sherri Rosen
cell phone: (310) 210-7009
toll-free: (866) YAS-YOGA
###