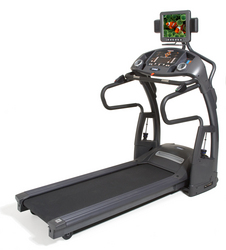 By combining commercial components with cutting-edge functionality and convenience, we're creating an exceptional experience for our customers
King of Prussia, PA (PRWEB) June 12, 2008
Smooth Fitness, the largest online retailer of home fitness equipment, today announced the launch of its newly updated 9 Series treadmills, which come with a wide variety of features including premium components. The new Hydra Suspension™ adjusts to fit different users, and patented Motion Control™ allows them to adjust the unit's speed with a simple wave of the hand.
"With our new 9 Series treadmills, we're truly able to provide consumers with unique features not typically found in home fitness equipment," said Marc Cerceo, Chief Operating Officer, Smooth Fitness. "The updated components and performance enhancements on the 9 Series makes them our flagship treadmills and furthers our status as a trendsetter in the industry."
Numerous features and attentions to detail make the 9 Series treadmills Smooth Fitness' top-of-the-line treadmills. All three models - 9.35 HR, 9.45ST and 9.45TV - feature Hydra Suspension, which allows users to adjust shock absorption to accommodate any running style, as well as patented Motion Control technology that adjusts speed without having to touch the console.
"By combining commercial components with cutting-edge functionality and convenience, we're creating an exceptional experience for our customers," added Cerceo. "Everyone from the casual fitness enthusiast to the serious athlete will be impressed."
Both the 9.45ST and 9.45TV treadmills include a 60" running deck, perfect for runners of all sizes, and an industry-leading lifetime warranty on all parts, frame and motor with one year of in-home service. The 9.45TV treadmill comes with a 15" LCD TV which is mounted on its own frame so that it remains steady even during intense running.
For an unbeatable cardio workout and a great addition to any home gym, the new 9 Series treadmills from Smooth Fitness are a great choice.
About Smooth Fitness
Smooth Fitness is the number one online retailer of home fitness equipment and the 255th largest e-commerce site in the United States as ranked by Internet Retailer. The Company currently markets the Smooth line of treadmills, elliptical trainers and exercise bikes to consumers over the Internet on its http://www.smoothfitness.com web site. The Smooth line of products has consistently been seen as one of the most cost-effective equipment lines available. The Smooth brand of fitness equipment is sold directly from the manufacturer and only on the Internet. The customer gets the convenience of shopping online combined with factory direct savings of 40% - 45%. Equipment is shipped not only through two manufacturing facilities, but also through warehouses on the East Coast, Midwest and West Coast.
###