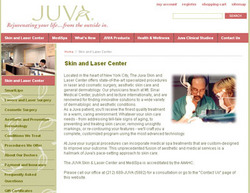 At JUVA, surgical procedures can incorporate medical spa treatments that are custom-designed to improve the outcome
New York, NY (PRWEB) June 16, 2008
Dr. Bruce Katz of JUVA Skin & Laser Center has been selected as the first dermatologist in the United States to implement Smartlipo MPX, the newest generation of laser liposuction. With the latest version of Smartlipo, New York-based Katz uses a dual-wavelength laser system to effectively dissolve fat cells and tighten skin through collagen remodeling.
The innovative MultiPlex technology is the only dual-wavelength laser system that has been cleared by the Food and Drug Administration (FDA). This innovation in Smartlipo laser liposuction combines the 1064 nanometer and 1320 nanometer in one laser output, blending the workstation's two wavelengths for optimal fat liquefaction and skin tightening results.
According to Dr. Katz, founder and medical director of JUVA Skin & Laser Center, "Smartlipo MPX Laser is faster and more powerful than the last generation of Smartlipo. The dual-wavelength technology precisely targets larger areas on the body, causes less bleeding, swelling and bruising, and dramatically tightens skin around the treated area."
Dr. Katz pioneered the original Smartlipo in the United States and recently led a clinical study on the new Smartlipo MPX to be published in a peer reviewed journal. Dr. Katz used the dual-wavelength (1320 nanometer and 1064 nanometer) laser on patients with small tattoos and made a tiny incision in the skin, while threading the fiber-optic laser under the skin to the target area to dissolve fat cells. Dr. Katz discovered new collagen growth on the biopsies taken from the patients and further results showed a 20 percent improvement in skin tightening in the areas surrounding the tattoo.
After using Smartlipo MPX to dissolve fat cells and create a more taut skin surface, patients can enhance their results and facilitate recovery through post-procedure treatments, explained Dr. Katz.
"At JUVA, surgical procedures can incorporate medical spa treatments that are custom-designed to improve the outcome," Dr. Katz said. "This fusion of aesthetic and medical services is a hallmark of JUVA's pace-setting approach to skin care."
For more information about Smart lipo surgery, laser liposuction recovery, the JUVA Skin & Laser Center and its Smartlipo doctors, visit Juvaskin.com.
About JUVA Skin & Laser Center:
The JUVA Skin and Laser Center offers state-of-the-art specialized procedures in laser and cosmetic surgery, aesthetic skin care and general dermatology, including the newest innovations in Smartlipo. New York City's JUVA center is staffed by skilled physicians who teach at Mt. Sinai Medical Center, publish and lecture internationally, and are renowned for finding innovative solutions to a wide variety of dermatologic and aesthetic conditions. The JUVA Skin & Laser Center and MediSpa is accredited by the AAAHC.
###